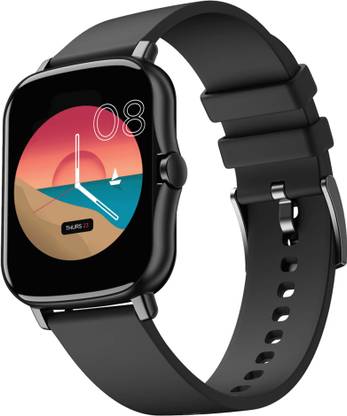 The renowned brand boAt has created a niche for itself in the Indian and international market as a top smartwatch brand. Their brand new product, the boAt Vertex Smartwatch is all set to hit the market with a bang. To compete with other brands manufacturing smart wearables, like Noise Colorfit, boAt has introduced new and exciting features in their new smartwatch.
The details of the boAt Vertex Smartwatch are available on Flipkart. You can find the limited features of the watch here, which are available on this poster.
Price Tag:
BoAt Vertex Smartwatch is going to be launched very soon. The initial price is around Rs. 6,990, but Flipkart will be offering a 64% discount with a price tag of Rs. 2, 499. You can click on the "Notify Me" button to let Flipkart inform you about the arrival of the product on the market.
Specifications and Features: BoAt Vertex Smartwatch:
| | |
| --- | --- |
| Display Specifications | 1.69' HD Display (100+ Cloud-Based Watch Faces) |
| Battery Life | 7-10 Days (Depending on the usage of the device) |
| Charging | Magnetic Charging |
| Special Features | Touchscreen, Health Ecosystem via boAt Crest App |
| Activity Tracker/Tracking Mode | Sleep tracking and guided breathing, camera, and music control. |
| Call and Message Alerts | Available |
| Sports Mode | Several sports modes (walking, running, skipping, football etc.) are accessible. |
| Waterproof Score | IP67, dust, sweat, and splash resistant device |
| Themes/Straps | Black strap |
Details on the Features of boAt Vertex Smartwatch:
Design and Display
The boAt Vertex smartwatch is armed with a 1.69' big display screen, which provides a comfortable view and a smart look. This brand new smartwatch is a perfect companion for your daily fitness hours, and the smart and sleek look of the watch resting on your wrist, with more than a hundred cloud-based watch faces can charge your mood and make you more enthusiastic. Swap numerous themes on this smart device to do away with a boring, monotonous tick-tock. And of course, the watch will keep you updated about the notifications from your phone: calls, texts, social media-everything is now on your palm.
The Health Watchdog
Your health will be under strict vigilance from now on. The new boAt Vertex smartwatch arrives with a wellness mode, which constantly monitors your heart rate, blood oxygen level, sleep, and helps you attain composure. It is also armed with a Body Mass Index (BMI) calculator to keep you posted about your fitness needs.
Not only that, the watch comes with seven sports modes (like walking, running, cycling, badminton, skipping, etc.) and an activity tracker to keep you energetic, enthusiastic, and in proper shape. And shh! It also comes with a menstruation cycle tracker, did you know that? You can also share updates with your dear and near ones about your fitness plans.
Battery Performance and Waterproof Score
You can get 7-10 days of battery life with a one-time charge, depending on the usage. The IP67 waterproof rating shields the watch from dust, sweat, and water splashes. So enjoy your sports hours to the fullest!
To get more ideas about this exciting little product, visit Flipkart now: Click Here