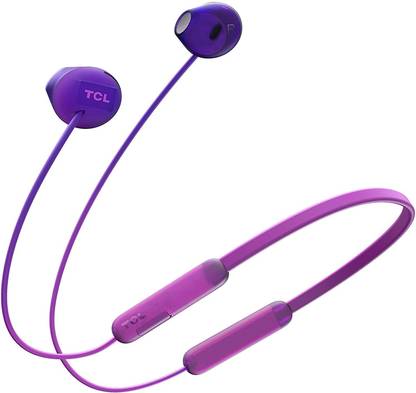 TCL SOCL200BT Bluetooth Neckband with 12.2mm Driver has Launched in India 2021
TCL is back into business by announcing its premium Bluetooth headphones. The reputation of the company makes this one of the most anticipated device in the audio market. TCL is known for supreme audio output.
Their engineering is top-class and every device has its own standard. They already stamped their way into market by releasing various electronical devices. In this article, we review TCL's SOCL200BT model of wireless Bluetooth Speaker. It is yet to storm into the arena. But the buzz is real.
New JBL tune 215BT wireless Bluetooth neckband, boat rockerz 255 pro plus neckband with up to 40 hours battery life, and noise buds pop tws has launched in India recently. It is a wireless Bluetooth in-ear headphones which comes as a Neckband. Now, let's analyze SOCL200BT's specifications and special features.
Specifications:
Wireless connectivity
Bluetooth version – 5
Wireless Connectivity range – 10 m
Up to 6 hours of battery time
2 hours charging time
Maximum 17 hours of non-stop play
Color gradient cable
Color Variants – Ocean Blue, Phantom Black, Surprise Purple, Sunset Orange
Flatwire
Weight – 20 g
In-built microphone
Sensitivity – 102 dB
Audio driver – 12.2mm
Warranty – one year
Inline remote
32 ohms impedance
22kHz maximum frequency response
TCL is a leading company which manufactures electronic products. TCL launched the latest headphones. This brand new product should be on your Wishlist.
TCL SOCL200BT Bluetooth Headset Features and Quick Review
You are traveling and, to enrich your travel you think of listening to music. You take out your headphones and notice that it entangled into a mess. Slowly, you remove the knots but, by the time you finish it, the travel ends. The irritation is real. In situations like these, the availability of Bluetooth headphones is a blessing.
Super Fast Connectivity
With the latest Bluetooth version (version 5), TCL's SOCL200BT can pair to phones super quickly. The connectivity distance is up to 10 meters. It means phones within the distance can seamlessly pair to your headphone. The trouble for connecting wires is no more.
Comfortable Neckband
A band-like material is stitched to the earbuds. It allows you to wear the headphones which acts as a Neckband. It sits on the nake of your neck and doesn't fall from there easily. With that ergonomic advantage, listening to songs, podcasts, audiobooks, and attending calls are made easy.
Majestic Music Experience
Thanks to a powerful audio driver, the earbuds produce sensational sound. The bass hits the right levels. Researched extensively for perfect sound engineering, TCL's SOCL200BT provides an another-world experience when plugged.
Colorful Design
As mentioned earlier, the design of the product outweighs all other features. At one glance, it attracts people around you. It comes in exotic color patterns. You can choose between the bright colors of Ocean Blue, Sunset Orange, Surprise Purple, and Phantom Black.
Feathery Touch
It is not just a pleasant sight to watch, but the material is also durable. It doesn't pave in to wear and tear. Even with multiple stretches, it won't come off. It is rigorously constructed.
It weighs only around 20 grams. You can easily arrange it and place it inside your pockets. The portability is the plus point.
Accessible Buttons
Unlike the old models, TCL SOCL200BT comes with multiple buttons. It makes the process of pausing and playing the audio a simple task. There is an option for reducing and increasing headphones' audio. Frequently turning on the phone is reduced.
While hearing the songs, one may get calls. If you are in someplace urgent, you don't need to take time and answer the call. The headphones will do the job for you with one in-built button.
All these specialties make TCL's SOCL200BT a promising launch. It makes one of the eagerly awaited headphones. If you are planning to buy a headphone, this product should top your shopping cart. With all the boxes ticked, it is your ideal choice for Bluetooth headphones.