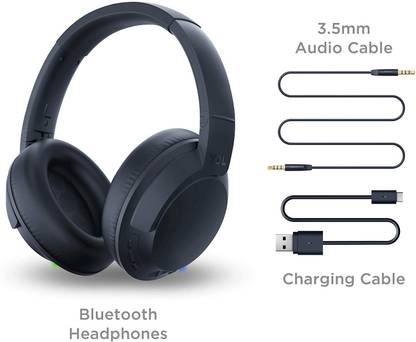 TCL ELIT400NC Over the Ear Bluetooth Headset with ANC: Launching soon in India 2021
A leading company in TV sales and a Fast-growing electronics company, TCL is making its mark in the world of headsets. Like we reviewed before TCL ELIT200NC Bluetooth Headset and TCL SOCL200BT wireless Bluetooth earphone. TCL is launching another cool Headset in the series as TCL ELIT400NC Bluetooth Headset.
We have also covered boat rockerz 550 full review in Detail.
The original price of the TCL ELIT400NC Bluetooth Headset is INR 6,999. They include specifications like ANC and Echo cancellation. These headphones can play music nonstop for 22 hours. Along with these features, it gives a better calling experience and fast charging. The launch date is not known. Let's dive deep into the features of TCL ELIT400NC and know more about it.
Specifications:
| | |
| --- | --- |
| Specifications | TCL ELIT200NC Bluetooth Headset |
| Connector type | 3.5m aux cable |
| Bluetooth version | 4.2 |
| Wireless range | 10m |
| ANC (Active noise cancellation) | Yes |
| Charging time | 2 hours |
| Battery life | 22 hours |
| Fast charging | Yes |
| Colour | Midnight blue, Cemen grey |
Feature Description of TCL ELIT200NC Wireless Bluetooth Headphone:
These Bluetooth headsets come with v4.2. The connectivity range is up to 10m/. Once paired with an audio device it gives a stable connection.
Active Noise cancellation:
Active Noise Cancellation (ANC) is one of the new technology that helps cancel all the background noise while you are talking on calls. Hence these headphones remove all the surrounding noise so you to enjoy your playlist.
High-resolution sound:
These headsets have a 40mm audio driver and offer outstanding trebles. The bass of these over the ear headsets is power and the sound quality is mind-blowing. The mids and lows and highs are also distinct.
Design:
TCL ELIT200NC ANC headphone is built uniquely so that they fit you comfortably. These headphones are provided with super-soft ear cushions so you can wear these headphones all day long without any pain or irritation. These cushions have memory foam. These headphones are easy to fold and kept away, making them one good travel companion. The folding design type is slim fold.
Battery Power:
These headphones have the facility of quick charging, that means it provides 5 hours' worth of playback with only 15 minutes of charging. It acquires 100% batter in 2 hours. Once fully charged TCL ELIT200NC Bluetooth over-ear earphone gives a playback of 22 hours. If we keep the Active noise Cancellation mode on, it provides playback of 16 hours, which is still pretty good.
Microphones and call:
These headphones have an inbuilt mic. This mic help in providing crystal create transmission of audio during calls. These headphones have echo cancellation features giving us a better calling time. These headphones have integrated controls that help us control our calls and volume and navigate through music.
Quality testing:
These headphones are very sturdy and durable. They have undergone many rigorous testing. These tests include 150 hours of bending, stretching, pulling and tangling. All of these tests are done with the motto to provide the best performance to consumers every day.
Conclusion:
These headphones have Bluetooth and audio cable pairing (AUX cable) if the battery runs out, so nothing comes between you and your favorite playlist. The audio cable is 1.2m long.
The Price during launch will be INR 6,999. The actual amount is set as INR 12,999. The launch date is not decided. They will be online on sale of platforms like Amazon and Flipkart. We hope we have given you all the details you need to know about TCL400NC cool new headsets ahead of their launch. If you like them and their features be the first in line to buy them when they are launched soon!