TCL's latest model of ACTV100 wired Headphones is all set to mark its launch in India. Keep an eye on this upcoming device as it offers plenty of powerful specifications. After looking at the details, you will be amazed by its audio engineering and performance.
Wired Headphones are outmoded considering the technical advancement in audio devices. But adding the necessary special features wears a different outlook. TCL has launched socl200bt Bluetooth neckband, mtro200 wired on the ear headphones, tcl elit200nc Bluetooth neckband, with ANC feature, and elit400nc over the ear Bluetooth headphone with active noise cancellation feature in India 2021.
In this article, let's analyze the technical aspects and design that constitute TCL ACTV100 wired headphones.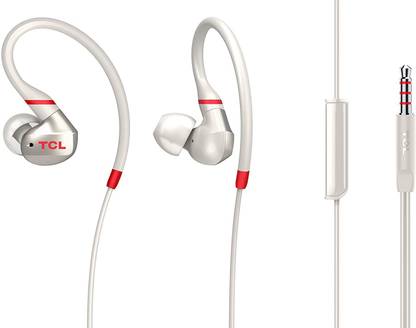 Specifications:
Color variants – Crimson White, Monza Black
With mic
3.5 mm Connector jack
8.6 mm audio driver
IPX4 Waterproof
0.0142 kg weight
1.2m – Length of Cable
Perfect Making, Bold design
The headset is designed such that the earpiece sets its place perfectly around your external ear. The ear tips are anchored well within your ears. Your workout sessions and jogging mornings and evenings fire up thanks to the sleeky design. The over-the-ear hook saves that job for you. It doesn't trouble in between your fitness goals.
Powerful Audio Performance
You know the quality is masterful when the audio driver boasts an 8.6 mm. The bass elevates from the chambers of the set. It equalizes perfectly and, the sound heard is wholesome.
The audio equipment captures minute sound details and makes sure no experience goes omitted.
Reaction to Noise:
The Noise-Isolation appears passive that indulges you in mesmeric audio. No matter your place of exercise, the outer disturbances are checked out. You can leisurely listen to music while multitasking.
Inline Remote
TCL ACTV100 comes with an easily accessible remote control. With just a tap or two, most work appears done. Pausing and playing done with a single button; skipping and revisiting the previous track done in a tap; attending and rejecting calls; unleashing Voice Assistant, all done with in-built remote access.
The compactibility has access to all devices like Google or Apple.
Tough Material
The material testing saw a rigorous process. So there is no compensation for the quality of the wired headset. It withstands wear and tear. One needn't worry about carrying the device outside.
All these features speak for the greatness of TCL ACTV100. The price is the icing on the cake. As TCL is a leading company, without any doubt, you can go for the headset.
All the wonderful specifications fit well within your budget. In this article, we filtered the important things for your notice. Overall, the upcoming TCL ACTV100 will be a promising buy.