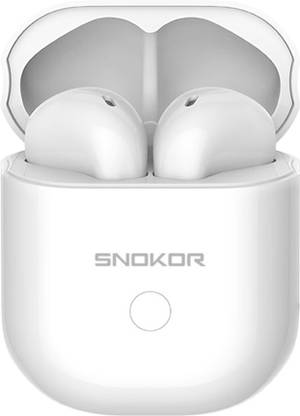 The latest earbud of Snokor launched recently in the Indian market at a regular price of 3999 INR. You will get the classy wearable audio electronic device at a bargain price of 1999 INR.
The pure white colour earbuds by Infinix provides you with exceptionally responsive touch controls. The usage will be smoother and easy for the user.
The XE16 model of SNOKOR earbuds are purely wireless, so tag them as you go for a brisk walk.
Snokor also launched Irocker stix true wireless earbuds in India recently.
Snokoar iRocker Gods Specifications and Highlights:
Dynamic Bass Boost Driver
Long Playback time
Intelligent Touch Controls
Gaming Mode
Dust and Sweat Proof
Insta-Auto Connection
Ergonomic Design
Quick Charging
SNOKOR iRocker Gods XE16 Features Details and Quick Review :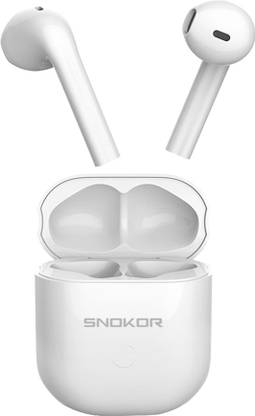 Dynamic Bass Boost Driver
The dynamic 13mm large bass boost driver employ top-quality PU and titanium magnets to give you a fantastic sound experience. Attainment of speedy and stable connection is possible as it features pure wireless chip of ATS 3015 kind.
Music lovers will be delightful to know that it comes with powerful bass and lets you hear vocals clearly with frequencies in the range of 20-20000 Hz.
Long Playback time
Enjoy 24 hours of playback time with the Snokor earbuds freely as the ear earbud employ 35mAh battery. The charging case offers lithium polymer battery of 500mAh capacity.
Intelligent Touch Controls
The presence of a multifunctional button makes your work a lot easier. You can activate Siri or voice assistant by double-tapping the left earbud.
On single tap answer to calls and play or pause music as per your demand. The user needs to tap twice on any of the earbuds to reject calls.
Gaming Mode
Gaming mode activates as soon as you tap thrice on the left earbud. The Snokor iRocker Gods earphone provides you with accurate synchronization of audio and video as it is the prime requirement of any gamers. It comes with a low latency of 60ms.
Dust and Sweat Proof
The SnokoriRocker Gods TWS possess IPX5 water resistance rating. It is admirable as you perform outside activities and rigorous workouts without any fear of damaging the earbuds.
Insta-Auto Connection
The super-quick wireless connection is achievable only because it employs the latest version of Bluetooth 5.0. Once you pair the earbuds to your electronic device, the next time it will connect automatically as soon as you take them out from the casing.
Ergonomic Design
The Snokor iRocker Gods earbuds fit snuggly and securely inside your ear canal. The soft lightweight earbuds make you feel comfortable the entire day as you tune into the beats of pop music.
Quick Charging
The SnokoriRocker Gods earbuds require a charging time of only 1 hour. Whereas, the charging case gears up to 100% within 2 hours.
The digital festival will be unique as you can enjoy high bass devotional songs comfortably with the latest smart-looking SnokoriRocker Gods Bluetooth Headset.