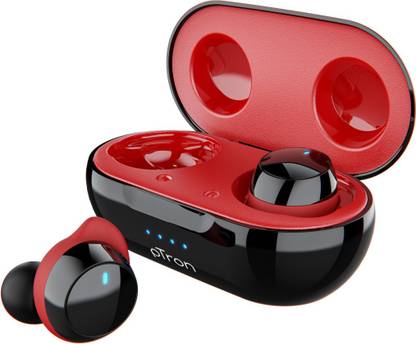 In this era of developing technologies, Bluetooth headphones have become the most commonly used ones.
PTrom Bassbuds Evo true earbud comes with Active noise cancellation, longer battery life, and deep bass.
You can use it with any Smartphone, tablet, or voice assistant. It has an 8mm dynamic driver size which enables rich bass. You can listen to rock and roll without disturbances.
Bluetooth Version: v5.0
Battery Life: 4 hours
Audio Driver: 8mm
Voice Input: Yes
Mic: Yes
Weight: 30g
Ptron Bassbuds Evo Features and Detail
Crystal- Clear Audio
These headphones have rich and deep bass due to its dynamic driver. If you love music, you can to listen to your favourite music to its fullest. Its deep bass elevates the song you are listening. These headphones are too light and have a built-in mic.
You can listen to music on one earbud and share another with your friend. You can wear just one earbud and listen to your favourite music in stereo sound. You can use it even in single-channel mode.
Bluetooth Connectivity
It connects with any device within 10m distance. Its Bluetooth version 5 helps to connect faster to any smartphone. You can use Bluetooth to connect it with both your mobile and assistive device. It helps you to listen to your favourite tune.
Long-lasting battery
It has a long-lasting battery up to 4 hours and playback of 8 hours. It comes along with a magnetic charge case. It comes with a USB port which enables you to charge it.
Its 300mAh battery has 100 hours of standby time. The earbuds are 45mAh battery each. The case has 2-3 charge cycles.
Comfortable Design
These earphones are comfortable, and you can use it for long hours. They are specially designed to fit in the human ear. So you can connect to any device and enjoy wire-free music.
You can connect you to voice the assistive device just by three taps on the multi-functionality device. Just by tapping on it, you can listen to your favourite music and get answered to the voice command.
All images taken from Amazon