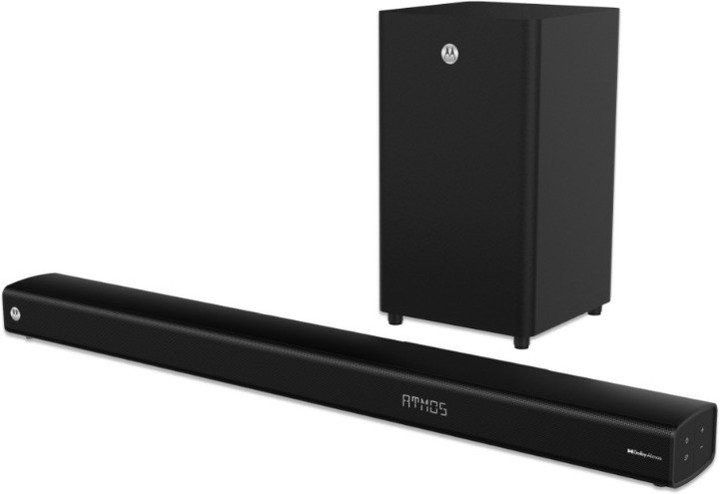 Take your sound experience to the next level with this newly launched Motorola Amphisoundx 250w 3.1 Dolby Atmos Soundbar With Wireless Subwoofer.
It is specially designed to deliver clear audio with the presence of Dolby Atmos. This Dolby Atmos will provide an excellent surround sound quality with a magnifying sound so that you can get clear audio even on the small details.
n this page, we have listed all the specifications, price and much more.
Best Specifications and Top Highlights Of Motorola Amphisoundx 250w Dolby Atmos Soundbar
120W R.M.S High Definition Sound
Bluetooth version 4.2
Immersive sound experience
Intelligent surround sound for 3D spatial audio
Powerful bass
Multiple preset audio modes
Multiple Connectivity
AC Power source
3.1 Channel soundbar
Model Number: MT250-ASB31
Motorola Amphisoundx 250w Dolby Atmos Soundbar Features Review and Detail
It has a good quality sound and gives a good power output about 120W from this soundbar.
120W R.M.S High Definition Sound
You will get a better level of sound experience. This soundbar provides an outstanding audio output with powerful bass.
The Subwoofer has 6.5-inch sized drivers and Soundbar has 6 front-firing drivers. Each driver on the Soundbar has a 2-inch size which gives a better audio output.
Motorola has also launched their new TWS Verve Buds 100 and 3 in one wired or wireless or neckband Tech 3 in India.
Immersive Sound Experience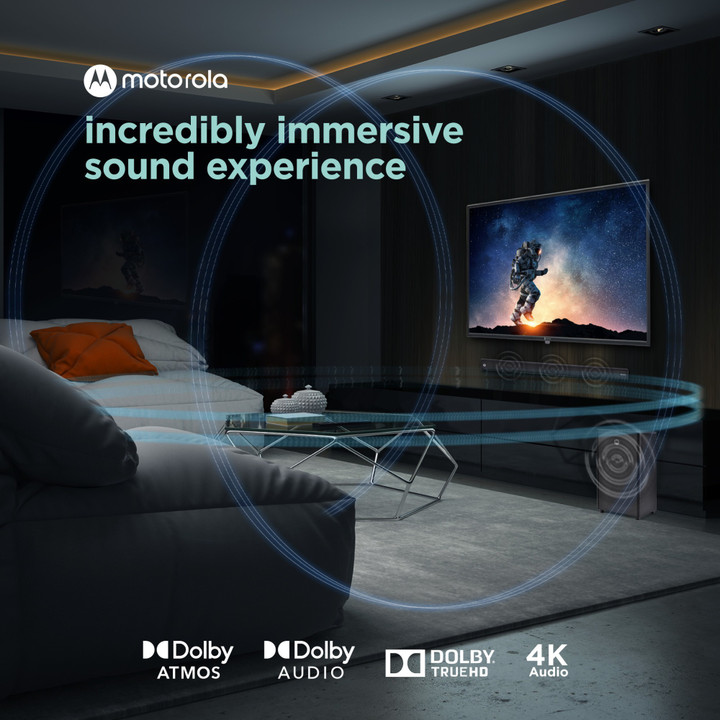 Motorola Dolby Atmos Soundbar utilizes various technologies to deliver an immersive sound experience.
They are powered with some technologies like Dolby Audio, Dolby Atmos, Object Audio Renderer, Dolby Digital+, 4K Audio, Dolby True HD, Dynamic Range Controller, Vertical Surround Sound Hotkey.
It has a Digital Signal Processor to produce an intelligent surround sound for the 3D spatial audio. With this feature, it also has a dedicated centre speaker to give the best audio output.
Multiple Preset Audio Mode
It comes with Multiple preset audio modes, so you can change the audio levels as per your listening mode.
Boat aavante bar 1700D and boat aavante 1190 bluetooth soundbars have launched in India.
It also has bass-treble control. This will help you in improving the bass and tweaking some higher-pitched sound outcome from the soundbar.
Multiple Connectivity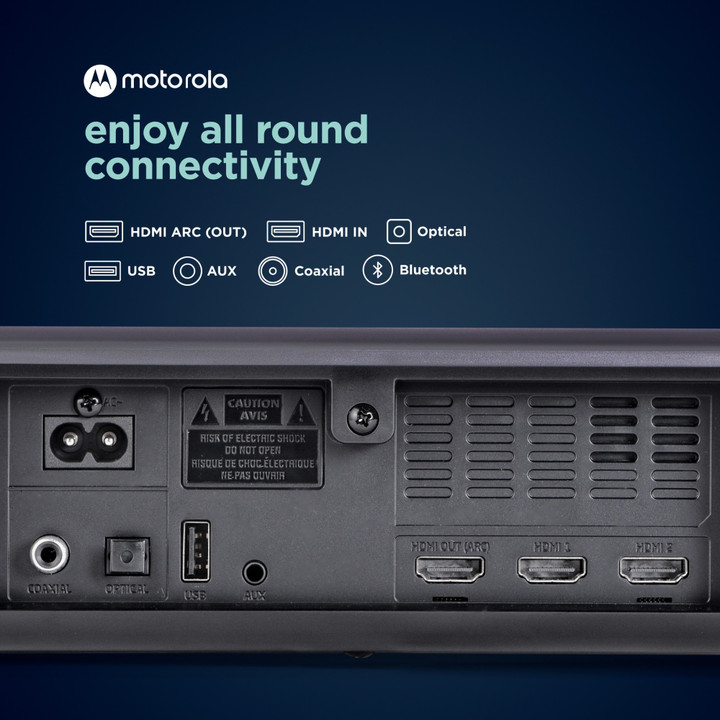 Motorola Dolby Atmos Soundbar has Multiple Connectivity options. It includes the connectivity through Coaxial, HDMI ARC (Out), Aux, USB, HDMI In, Optical. It can directly pair your gaming devices to Soundbar.
Thus you can connect your soundbar anywhere, without thinking about the connectivity problem.
This soundbar is compatible with TV, mobile, laptop, computer, gaming consoles and other media streaming devices. Whatever the device you are using, Motorola Dolby Atmos Soundbar works well with everything.
Warranty
Motorola Amphisoundx 250w Dolby Atmos Soundbar has a 1-year warranty. If the soundbar has functional parts defects and manufacturing defects you can claim the warranty.
You can claim the warranty for the first year of purchase if you find any defects. The warranty can't be applied for physical damages.
You can experience the wireless music streaming with this Bluetooth speaker and you will get clear audio within the range of 10 m.
It has the dimensions 110×27×37.5. It has an AC power input of 220-230 V. The price of the soundbar is 24,999 INR in India.