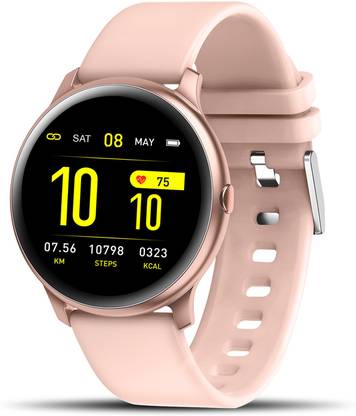 We all know that people are now looking for a perfect fitness partner. Taking this advantage, several top brands are competing in the market to serve their best performing smart Watches. Among them, Gionee is a growing brand with leading products. Gionee is moving towards launching the new Gionee StylFit GSW7 Smart Watch.
Some of the leading brands have also launched their exclusive products like PTron PulseFit P261, Syska Bolt SW200, and Zebronics Zeb-Fit4220CH. Some Watches like Boat Storm are always preferred for their performance.
Launch date and price
Gionee has planned to launch their StylFit GSW7 on June 13 at noon. The price tag is set as 3,999 INR.
Top Specs And Features Of Gionee StylFit GSW7 Smart Watch
| | |
| --- | --- |
| Bluetooth version | 4.0 |
| Display specs | 1.3-inches TFT display |
| Battery performance | 4-days |
| Charging time | 120 minutes |
| Charging type | Charging dock |
| Health sensors | Available |
| Sports modes | 7 |
| Tracking sports activities | Running, skipping, walking, cycling, basketball, football, badminton |
| Daily activities tracker | Distance track steps tracking, calories burned report |
| Camera and music controls | Available |
| Waterproof rating | IP67 |
| Check the product | Check on Flipkart |
Detailed Information About The Features Of Gionee StylFit GSW7 Smart Watch
StylFit GSW7 boasts a spherical display that is of medium size with the measurements 1.3-inches like the Fire Boltt 360. The top display layer is made of ordinary TFT glass. The whole structure of StylFit GSW7 is identical to the Noise Fit Active Watch.
Social media notifications and all other call notifications will be displayed on the screen with a vibration alert like the Boat Xplorer Watch. So, you will be alarmed by the notifications on your smartphone.
For connectivity, it employs the help of Bluetooth with the far version 4.0. This is not the recent Bluetooth technology, but the connectivity range would be better.
Sports modes and activities tracking features
With the 7 multiple sports modes, StylFit provides you with information about your sports activities like running, skipping, walking, cycling, basketball, football, and badminton. Further, it has the availability of a daily activities tracker like most of the Boat latest smart Watches have.
The daily activity tracker provides the report on distance track, steps count, and calories burned.
Health sensors and battery performance
For the health monitoring system, StylFit GSW7 packs some sensors. It includes a heart rate monitor, sleep monitor, and Spo2 tracker. If you need a Spo2 Watch within the budget limits, get one from the best Smart Watches with Spo2 monitor under 3,000.
In the battery part, it features an efficient 130 mAh battery that claims to provide 4-days of possible working time based on the usage. You can charge your battery completely within 120-hours.
Other Mentionable Features Of Gionee StylFit GSW7 Smart Watch
This Watch has a remote camera shutter and music controls. The boring Watch themes can be set to fit your style with the customizable Watch themes.
It is also presented to the maximum extent from water and dust with the IP67 waterproof ratings.