Smart Watches are indeed a great health partner when it comes to health monitoring. Due to the increased demand, several brands are budding to provide their best in the Smart Wearables system. Here, we targeted to find the best among the Noise Fit Active Smart Watch and Fire Boltt 360 Watch.
To be honest, both of these Watches are bundled along with multiple features. However, the best Watch between them can be found in an honest comparison. Here is the comparison result of both Watches.
Fire-Boltt 360 Smart Watch VS Noise Fit Active Smart Watch: Specifications and Features Comparison
| | | |
| --- | --- | --- |
| Details  | Fire-Boltt 360 Smart Watch  | Noise Fit Active Smart watch  |
| Version of Bluetooth | 5.0 | 5.0  |
| Display size  | 1.3-inch HD  | 1.28-inch LCD  |
| Connectivity range  | 10 m  | 10 m  |
| Battery performance | 8 days  | 7 days  |
| Charging type  | Magnetic Charging | Magnetic charging |
| Watch themes | Multiple themes  | Multiple themes  |
| Swappable straps  | Yes | Yes |
| Call and message alerts  | Available | Available |
| Music and camera shutter control  | Available | Available |
| GPS availability | No  | No  |
| Box Contents  | Watch, manual, charging cable | Watch, manual, charging cable  |
| Daily activity tracker  | Distance, steps, calories burned  | Distance, steps, calories burned  |
| Sports modes  | 8 | 10  |
| Tracking modes  | Cycling, basketball, running, football, badminton, walking, swimming, skipping | Cycling, running, cricket, hiking, swimming, walking, yoga, workout, treadmill, freestyle |
| Health sensors  | Available | Available |
| Volume & alarm controls  | Yes  | Yes  |
| Waterproof rating  | IP68  | 5 ATM  |
| Check price  | Check on Amazon | Check on Flipkart |
Display Specs & Connectivity Comparison: Fire-Boltt 360 VS Noise Fit Active Watch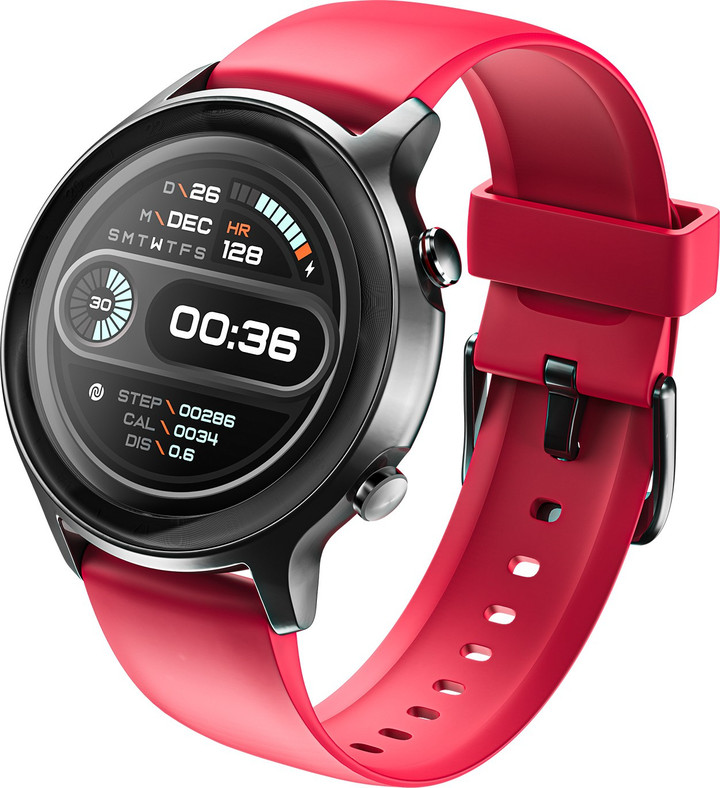 Both of these Watches boast a spherical display with full touch controls. The FireBoltt Watch has a 1.3-inch large HD quality display. Whereas, Noise Fit Active Watch has a spherical display of 1.28-inch.
In both Watch, you can fix between several Watch themes. You will get all notifications on the display of both Watches that helps you to always be aware of your social media contents.
You can also swap the straps of both Watched to suit your desired style. Bluetooth version 5 is the primary connectivity option on both Watches with a connectivity range of 10 m.
Which Brand Has The Better Display & Connectivity Specs?
Speaking about the specs of each brand, both have somewhat similar specs. However, Fire-Boltt Watch has a large display with HD grade. In the connectivity part, both are similar.
Comparing Health Trackers & Sports Modes of Fire Boltt 360 and Noise Fit Active SmartWatch
In Fire Boltt, you can get a full health assessment report with various built-in sensors. It packs a full-time heart rate tracker, stress tracker, Spo2 tracker, menstrual cycle tracker, breathing exercise, and sedentary reminder. Thus, it features a complete health monitoring sensor that helps you stay alarmed by your health system.
Sports modes of Fire-Boltt can track 8-sports activities. Further, it has the support of an auto-sports recognition feature that itself finds your sporting activity.
In Noise Fit Watch, you can get reports on your heart rate, stress levels, Spo2 levels, menstrual system, breathing, and sedentary alerts. With the available activity tracker, it can track about 10-sports activities. Through the auto-sports recognition sensor, it brilliantly tracks your sports activities.
Which Watch Is Best For Health Tracking And Sports Tracking?
When we compare the number of health trackers on each Watch, both have an equal number of sensors. However, when comparing the sports modes, Noise Fit Watch has the maximum activity tracking features.
Comparing Waterproof Rating And Battery Usage:
An IP68 Water-resistant rating shield is available with the Fire Boltt. Through this, the Watch can remain working even under 30 m deep in water. In the battery package, it has a working time of 8-days.
A 5 ATM water-resistant shield is available with the Noise Fit Watch. Even under 50 m deep in water, the Watch will remain unaffected. For the battery, it has a 10-days working time.
Which Watch Brand Is Better With The Maximum Battery And Waterproof Ratings?
In both battery performance and water-resistant capacity, Noise Fit Watch stands the best with maximum specs.
Conclusion: Fire Boltt 360 Smart Watch VS Noise Fit Active Smart Watch
Till now, we have compared all the specs of both Watches. They do have some mentionable similarities. You can remotely control the camera shutter, volume, and music on your Watch.
Thus, Fire-Boltt 360 is considerably good for better display and notifications. On the other hand, Noise Fit is better for battery, waterproof, health sensors, and sports tracking.
Overall, you may get the Noise Fit Watch for getting maximum features on the targeted budget.