Boat Storm Smart Watch Best Price, Features, and Specifications Detail
The boAt firm is famous for delivering top-quality wearable electronic devices.
The boAt firm will roll out premium boAt Storm Smartwatch for us in the Indian market. It is the time to get fit and transform our health with the help of the boAt Storm Smartwatch. Boat has launched boat watch flash with 24 hours heart rate monitor feature in India 2021. This festival gifts the most desirable product with exclusive characteristics to your loved ones.
Boat Storm Smartwatch Price and Launch Detail
The boAt will release Storm Smartwatch in the market at a regular price of 5990 INR on big E-commerce giant Flipkart.
But in Flipkart Diwali sale on 29th October you will get boat watch storm smartwatch with only 1,999 rupees price.
The square-shaped dial of the Smartwatch comes with a sleek design blue color strap buckle.
Boat Storm Smart Watch Next Sale on 18 December 2020.
The strap material is of good quality thermoplastic polyurethane.
The latest boAt Storm Smartwatch adds to the user's style statement, irrespective of gender. The stylish design fits just right with your outdoor look.
You can make boAt Storm Smartwatch as your constant companion during your workout sessions and beyond.
Boat Storm Smartwatch Specifications and Best Highlights:
1.3 Inches Full-Touch Screen
5 ATM Water Resistance
9 Sports Modes
Oximeter
Heart-rate Monitor
Smart Notifications Alerts
8-10 Days Battery Life
Real-Time Health Monitoring
Daily Activity Tracker
Gesture Feature
Boat Storm Smartwatch Features and Quick Review
1.3 Inches Full-Touch Screen
The newest boAt Smartwatch comes with a large display screen of 1.3 inches.
You can read the letters clearly, as the display screen resolution is of 240×240 pixels. The corners bevel to 2.5D which makes it form a curved display.
5 ATM Water Resistance
Fitness freaks will now be joyful to know that the unique boAt Storm Smartwatch possesses a water resistance power of 5atm.
The intensive workout will be more useful with all the vital data that the Smartwatch will provide you during the exercise session.
9 Sports Modes in Boat Watch Storm Smart Watch
During this festive season consider the latest boAt Storm Smartwatch as your pal, since it supports vital activity trackers.
The Smartwatch will count how much calories burn as you walk, run, hike, ride, climb, spin, and perform yoga.
It will make a note of your steps and distance as you run on the treadmill.
Ladies defer from tracking the menstruation cycle as the boAt Storm Smartwatch will do this task for you.
Now, it is possible to track your sleep at every stage with the help of this current Smartwatch.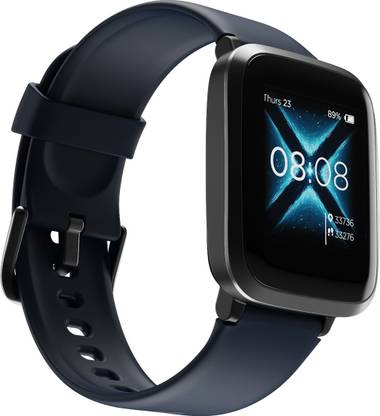 Oximeter: Boat Watch Storm Smartwatch
The period in recent times has made it mandatory for people to keep a track on their oxygen percentage in the blood.
It has led to the development of an oxygen level measurement system in the latest boAt Storm Smartwatch.
Heart-rate Monitor
You will be able to check your heartbeat instantaneously with boAt Storm Smartwatch while you run or do heavy workout sessions.
It proves to be the guide that one needs to enter a meditative state when you want to relax.
Smart Notifications Alerts
The user will receive smart instant notifications over the Smartwatch by vibration alerts as you get calls or text messages or reminders or alarms on the phone.
Noise colorfit Pro 3 smart watch has launched in India recently.
One can find their phone using a Smartwatch as you misplace the handset by mistake at home or workplace.
8-10 Days Battery Life: Boat Storm Smart Watch
Without worrying much about the battery, use the Smartwatch for as long as 10days continuously.
The rechargeable lithium-polymer battery survives for about 8 to 10 days depending upon the usage.
The boAt Storm Smartwatch is highly beneficial for all age groups of people as it performs various functions.
The Smartwatch employs high-tech accessories like G-sensor, optical heart rate sensor and accelerometer to track your daily activities and provide you with useful data that may concern you.
CrossBeats Trak and Ace Smart Watch has launched in India
The touchscreen Smartwatch allows you to receive social media and sedentary alerts as well.
Connectivity Options in Boat Watch Storm
Connect your Smartwatch with your smartphone supporting the Android or iOS operating system.
You can connect the handset with Smartwatch with the help of advanced Bluetooth version 4.2.
The boAt Storm Smartwatch will enhance your look at this festival spree. Maintain your health and achieve greater heights in fitness with this classy Smartwatch.