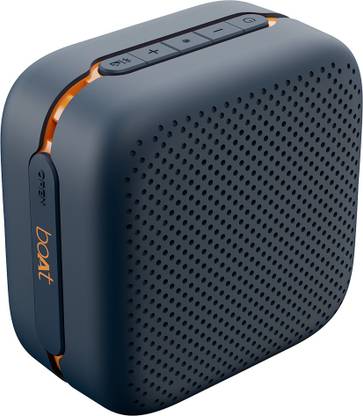 Having a Bluetooth speaker is crucial for today's lifestyle. For all random small occasions or for enjoying music while doing your everyday chores, you must possess a portable Bluetooth speaker to have your back. Although the desire is simple, the task of finding the best one for yourself is equally challenging. Boat is very well known for its audio products, and we like to review them for you.
Boat Stone Cuboid Review
If you are impressed with their earphones, you should also have a shot at their Bluetooth speakers. Check out Boat Stone 1200 and Boat Stone 1350 for the best Boat speakers. Here we are reviewing their latest release, Boat Stone Cuboid Bluetooth speaker. All its top specifications are mentioned below in the tabular form. You can also read on to have a full-depth knowledge of those top specifications. Let's get started!
Box Contents
The product arrives in premium packaging with a "Let's get stoned" punch line written on it. It is on Flipkart for 999 INR. Within the package, users will find:
A Warranty Card
Boat products catalog
A User Manual
A micro USB charging cable
Aux cable
A carrying strap
Boat Stone Cuboid Bluetooth speaker
Top Specifications
| | |
| --- | --- |
| Product Name | Stone Cuboid |
| Type | Mobile/Tablet Speaker |
| Configuration | Mono Channel |
| Connectivity | Wired, Wireless |
| Bluetooth version | 5.0 |
| Bluetooth Range | 10 meters |
| Dimensions | 90 × 90 × 50 mm |
| Portable | Yes |
| Water-resistant | Yes, IPX5 |
| Memory Card Slot | Yes |
| Power Output RMS | Five w |
| Battery | 1200 mAh |
| Battery Life | 5.5 hours |
| Charging Cable | Micro USB Charging Cable |
| Warranty | One year |
| Warranty Type | Manufacturer |
Detailed Specifications Of Boat Stone Cuboid Review
Design
The speaker comes with an attractive design with a Matt finish which is easy to like. Its rubberized texture makes its grip strong on other surfaces. On the side of the speaker, users will see a flap that reveals a micro USB port alongside a memory card slot, and an Aux port. Moreover, this flap is water-resistant, which protects your device from water and dirt-induced damage. Overall, the build of the speaker is premium and satisfactory.
Bluetooth and Pairing
The speaker comes with Bluetooth version 5.0. It establishes a quite stable connection with your device within a radius of roughly 10 meters. To connect the speaker via Bluetooth, you have to long-press its power button, which will automatically bring it into Bluetooth pairing mode. Then you can search for it in the list of your available devices and connect.
Button Controls Review Of Boat Stone Cuboid
The buttons on the Boat Stone Cuboid Bluetooth speaker are somewhat small and difficult to press. You get several buttons, one of the buttons is its Power button which is self-explanatory. Next, you have the traditional volume buttons with plus and minus markings on them.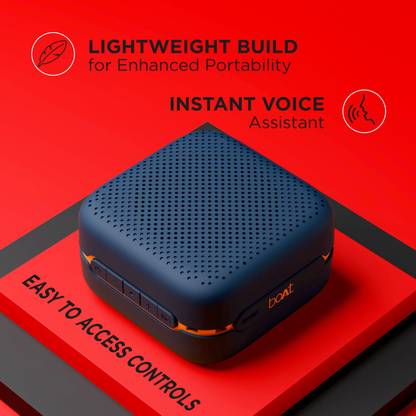 Another great function allotted to the volume buttons is that they can also take you to the next or previous track. Long pressing the plus button plays the next track, while long-pressing the minus button plays the previous one. Lastly, there is a button for switching modes between Bluetooth and FM. This button will also invoke your Voice Assistant on long press.
Battery Performance Review of Boat Stone Cuboid Speaker
The battery percentage is available outside the box near the speaker's name on your Bluetooth available devices list. Boat Stone Cuboid Bluetooth speaker comes with a 1200 mAh battery that the company claimed will last for 5.5 hours. In our opinion, the playtime of the speaker is very low given its 1200 mAh battery.
Furthermore, there is no fast charge feature. The micro USB cable is another big disappointment given its price. After using the speaker, we observed the battery of the product would last for about five hours on 50-60% battery.
Sound Quality
The sound quality of the speaker was loud and satisfactory while playing music on music apps such as Spotify. However, the loudness decreased significantly on other apps like YouTube. Similarly, the volume also dropped while using its Aux port. Otherwise, the sound quality is adequate. The bass of the speaker is heavy. However, the loudness of the product is a deal-breaker for us. Moreover, the sound quality was not crisp and clear. When it comes to its microphone, sound quality is also average.
Other Features Of Stone Cuboid Review
Extra features of Boat Stone Cuboid Bluetooth speaker comprise its IPX5 rating, which makes the product water and splash resistant, an SD card slot, and 5 watts sound output. The speaker offers multiple connectivity options, i.e., Bluetooth, Aux, SD Card, and FM radio option. The product doesn't come with a lot of exciting features or even necessary features, for that matter.
Boat Stone Cuboid Pros and Cons
Is Boat Stone Cuboid Bluetooth Speaker Worth Buying?
The speaker comes with a great design that is reliable and portable. The bass is decently powerful, and users will find this product apt for casual music listening. However, there are no unique extra features. The battery life and no fast charge features are the most disappointing aspects of the product. Users willing to buy an adequate product with the most basic features can go for the Boat Stone Cuboid Bluetooth speaker.
It has an IPX5 rating, multiple connectivity options, and several multifunctional buttons. Furthermore, the price of the product will make it easier to settle for these features. But if you're looking for a speaker that can take things to the next level, you shouldn't settle for this one. Try speakers from other brands. If you're set on buying speakers from Boat, then check out Boat Stone 1500 and Boat Stone 350.