Are you tired of shifting through countless earbud options in search of the perfect pair? Look no further than the Boat Rockerz Apex Bluetooth wireless earphones!
table
But what about the competition, you ask? Well, the Boat Rockerz 255 Max and Boat Rockerz Trinity Neckband are known for their exceptional sound quality, making them a top contender in the world of wireless earbuds. And let's not forget about the Crossbeats Revolt TWS earbuds, which have gained a reputation for being unbeatable in terms of perfect earbud design.
However, when it comes to the latest technology and overall audio experience, the Boat Rockerz Apex Bluetooth wireless earphones are the clear winner. So, the Boat Rockerz Apex is the thing to go if you're willing to take your music to another level.
Everything you need to know about these headphones, including their excellent sound quality, cutting-edge technology, and snug fit, will be covered in this review. Whether you're an audiophile or just looking for the best in wireless earbuds, the Boat Rockerz Apex has got you covered. So sit back, relax, and get ready to experience the very best in audio technology!
Use This Pair of Wireless Earphones to Manage Your Sound!
This cutting-edge kit comes with everything you need for a fantastic audio experience:
1 set of wireless earbuds
one C-Type charging cable
2 sets of ear plugs (Extra)
Boat Rockerz Apex Bluetooth Neckband Full Specifications Details
| | |
| --- | --- |
| Bluetooth | v5.3 |
| Connectivity type | Ear |
| PlayTime | 30 Hours |
| Charge | Yes |
| Widely used for | Gaming |
| Charging time | 50 min |
| Operating Range | 10 m |
| Driver Size | 2*12 mm |
| Frequency | 20Hz-20KHz |
| Battery | 220 mAH |
| Suitability | Bluetooth Devices |
| Charging Interface | Type C |
| Wireless Earphones Weight | 3.7 g |
| IPX RATING | IPX4 |
| Beast mode | Yes |
| Boat Rockerz Apex | Check Latest Price |
Built to Last: The Wireless Earphones' Exceptional Design and Construction
The Boat Rockerz Apex Bluetooth Wireless Earphones are a true testament to exceptional design and construction. With a sleek and stylish design, these earphones are built to last and provide aa a relaxed fit for all-day use. The earbuds are designed with premium components that are strong and lightweight, making them perfect for people who are always on the go.
With their exceptional design and construction, they are built to last and provide a premium audio experience.
Audio performance: An In-Depth Analysis of the Wireless Earphones' Audio Quality
If you're a music and media enthusiast, you'll love the Boat Rockerz Apex neckband headphones. It is designed in a way to deliver a high quality audio with their bass-boosted songs and clear vocals. Plus, with the spatial bionic sound feature, you'll feel like you're in the middle of a live performance.
To switch between the original sound and the spatial bionic sound, simply press the function button twice. The headphones use crosstalk cancellation technology to optimize the audio quality, resulting in a clear and crisp sound that enhances your listening experience. These features makes user to enjoy music and media with the utmost clarity.
Overall, the Boat Rockerz Apex neckband headphones are an excellent choice for those who prioritize audio performance. With their bass-boosted songs, clear vocals, and spatial bionic sound feature, you'll get an immersive and enjoyable listening experience. The crosstalk cancellation technology further optimizes the audio quality, ensuring you get a clear and crisp sound that enhances your listening experience.
Calling performance: An advanced Noise canceling technology
Users give the Boat Rockerz Apex Wireless Earphones good marks for its calling quality. They have dual-microphone technology, which produces crystal-clear audio for calls. The noise-canceling technology in the earbuds also makes it simpler for the user to hear and be heard during calls by lowering background noise.
This wireless neckband provides ENxTM technology. This cancels environmental noises and makes a preferable one for the phone call dependent users.
A robust and dependable Bluetooth connection is another feature of the Boat Rockerz Apex Wireless Earphones, assuring that calls won't be dropped or cut off because of connectivity problems.
The built-in microphones are provided, which automatically cancels out background noise during voice calls so you can be clearly heard wherever you are.
Gaming performance and Water Protection
Low Latency – With our low latency BEAST Mode, this earphones delivers a matchless experience whether you are enjoying your gaming or binge-watch sessions.
Boat Rocker Apex is a gaming headset that boasts a low latency of just 40ms, making it an excellent choice for gamers who demand quick and responsive audio. With this low latency, the headset can deliver high-quality audio without any noticeable lag or delay, ensuring that gamers can hear every sound and react quickly to in-game events.
The low latency of the Boat Rocker Apex is particularly beneficial in fast-paced games such as first-person shooters, where split-second reactions can mean the difference between victory and defeat.
The Flexible And Practical Wireless Earphone Controls, In Control:
Accessing is easy
Here's how:
Turn on Bluetooth on the media device, then refresh to do a fresh search for nearby devices.
Search for 'Boat Rockerz Apex' and pair with the Wireless Earphones.
Power On/Off: Press and hold the multi-function button for around 2 seconds or until you hear a beep to turn on the earbuds. Press and hold the same button for roughly 3 seconds or until you hear a lengthy beep to switch off the earbuds.
Level Control: By pushing the "+" or "-" buttons on the earbuds, you may change the volume of your music or incoming calls. The volume may be changed by simply pressing the "+" or "-" buttons once.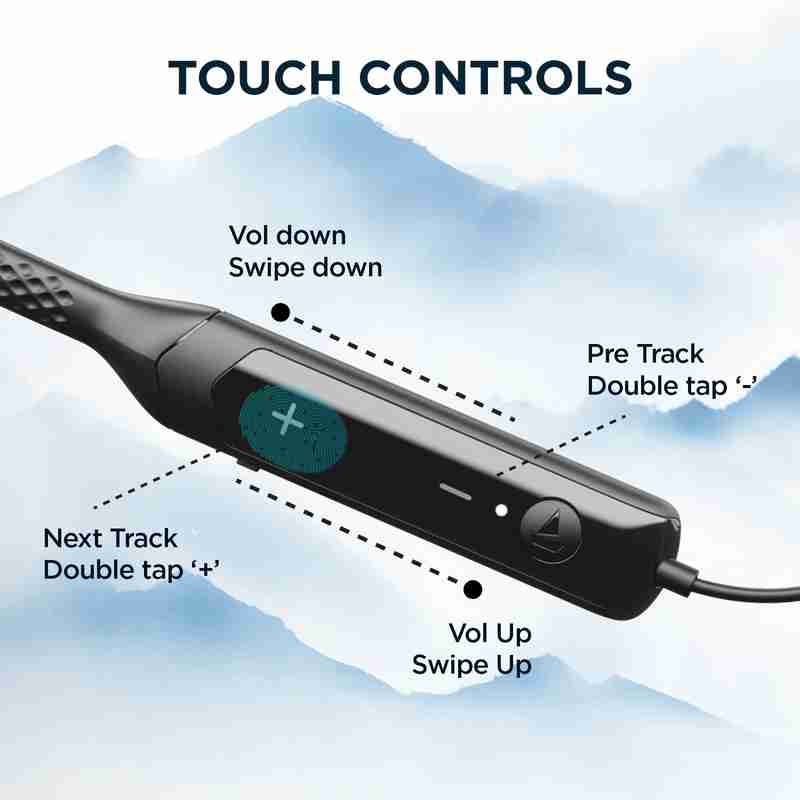 Play/Pause: Press the multi-function button once to play or pause your music or incoming calls.
Skip Forward/Backward: Double-press the multi-function button to advance to the following track. The multi-function button must be triple-pressed in order to return to the previous track.
Done now! Your Bluetooth connection to your Wireless Earphones has been established, and you may now use them to take calls, listen to music, and so more.
Dominate the Game with Unrelenting Power: A Overview of Battery Capacity
The Boat Rockerz Apex Bluetooth Wireless Earphones have an impressive battery life, providing up to 30 hours of continuous playtime on a single charge. Additionally, the earphones have a fast charging feature, which allows you to get back to listening in no time after a quick recharge.
With this feature, you can enjoy a few hours of listening with just a few minutes of charging. Overall, the battery life of these earphones is more than enough to get you through a full day of use.
Enjoy continuous music playback for up to 30 HRS. Play with Rockerz Apex all day, every day.
The smartphone may have a total playtime of up to 10 hours with the aid of our ASAP Charge technology in just 10 minutes of charging.
Boat Rockerz Apex Pros and Cons
Conclusion: Boat Rockerz Apex Review
In conclusion, anyone looking for a great music experience while on the road can definitely choose the Boat Rockerz Apex Wireless Bluetooth earphones. These earbuds are a terrific investment for music fans, gamers, and professionals alike thanks to their stylish appearance, cozy fit, and dependable connectivity.
With strong bass and crisp treble, the audio quality is superb and will please even the most picky listeners. The noise-canceling feature makes sure that you can enjoy your audio without being interrupted, and the touch controls are simple to use and straightforward.
The Boat Rockerz Apex earbuds give a high-quality audio experience that is comparable to more costly versions, and they are an excellent bargain overall.
Boat Rockerz Apex FAQs
1. How do we pause and resume playing music? 
The Quick Switch Button on the Rockerz Apex Wireless Bluetooth earbuds allows the user to quickly switch between two devices with a simple double-tap. You have total, seamless control over music and other media thanks to this. For more information on how to utilize its functions, please consult the instruction manual. 
2. Can I use any adaptor to charge this?
Yes, you can use any type of adapter to charge these earphones. 
3. Are they suitable for iPhone or Android devices? 
Earphones are suitable for both iPhones and Android devices. 
Yes, Rockerz Apex is ideal for many applications. It is ideal for Zoom, Meet, Teams, etc. thus it may be utilized for meetings and calls.
 5. How can I access Google and Siri?
 The voice assistant on the Rockerz Apex may be accessed with a single press. For further information, please see the handbook