The technological revolution, kickstarted by the boAt company, has reached a new height with its innovations in headphones. The company has left lasting impressions in the arena of smartwatches and other products. Check out boAt Rockerz 550, and Bluetooth earphones like boAt Rockerz 205 Pro; they have arrived in the Indian market to posit a serious challenge to the competitors of boAt, and the market tension has been heightened by the introduction of the new boAt Rockerz 660 headphone, which is all set to change the game. Read the discussion below to get a clear idea about the details and specifications of the latest product in the world of best boAt Rockerz headphones: boAt Rockerz 660.
Specifications and Features
Brand
boAt
Model Name
Rockerz 660
Product Dimensions
18×15.6×7.6 cm
Battery
One Lithium-Ion Battery (already included)
Hardware (Mounting)
Rockerz 660, User Manual, Warranty Card, Type-C cable, Auxiliary Cable, Catalogue
Special Features
Phone Control (Android/iOS), Volume Control, Microphone, Bluetooth (Version 5.0)
Form Factor (Headphones)
Over-Ear
Cable Feature
No cable included
Connector Type
Wireless
Item Weight
164 g
Charging Time/Playback Time
10 minutes/8 hours
Price
Check Best Price Online

Check Best Price on Flipkart

Check on Boat Website
Details of boAt Rockerz 660
The Ear Detection Technology, which is a special feature of boAt Rockerz 660, is one of its notable sides, as you just have to wear the device for the audio to play automatically. You can easily switch between two modes: bass and balanced EQ. These two modes have been specially designed for interested users so that they can enjoy an immersive aural experience.
Moreover, the device can be controlled by your cell phone, both Android and iOS, which will certainly enhance your hassle-free listening experience. The signature sound of boAt, with its crystalline quality, will provide you with an enriching listening experience, even if you are playing music with thumping bass. The over-ear cushions, provided with boAt Rockerz 660, nicely accentuate your listening experience and protect your ears.
Controls and Connectivity:
The integrated controls of boAt Rockerz 660 allow the user to switch between different tracks easily, to start and stop music, and increase and decrease volume. The single press Voice Assistant on this device helps you to activate Google or Siri, which will flood you with the latest updates on sports, weather, and news.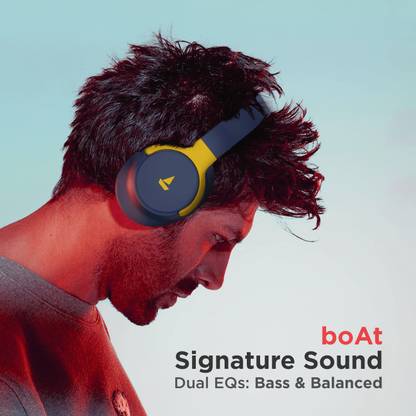 The device can connect to your media devices, with the help of dual pairing technology, and of course, the latest Bluetooth Version 5.0 helps you extract full enjoyment from real-time audio. You need not worry about top or down orientation, as the headphone is equipped with a universal Type-C cable.
Battery and Playtime:
BoAt Rockerz 660 comes with eight hours of playtime, which can be enjoyed after charging for only ten minutes. The headphone, which is powered by one Lithium-Ion battery, comes with Fast Charge Technology, which helps you to enjoy music without any kind of power impediment.
See Also:
u003cpu003eu003ca href=u0022https://feelmusic.in/boat-rockerz-450-headphones-features-price-review/u0022u003eboAt Rockerz 450 Headphones: Features, Price, and Reviewu003c/au003eu003c/pu003eu003cpu003eu003ca href=u0022https://feelmusic.in/boat-immortal-im1000d-price-specs-review/u0022u003eboAt Immortal IM1000D Gaming Headphones: Price and Specificationsu003c/au003eu003c/pu003eu003cpu003eu003ca href=u0022https://feelmusic.in/boat-rockerz-550-vs-510/u0022u003eboAt Rockerz 550 vs 510 Headphones Comparisonu003c/au003eu003c/pu003e
Price:
The new boAt Rockerz 660 is available in three colours: Active Black, Bumblebee Blue, and Fiery Maroon. The product is currently unavailable on Amazon, so keep an eye on the Amazon page to receive the latest updates. You will get a one-year warranty, which is issued from the purchase date of this device. Besides, don't forget to check the latest boAt headphones, especially boAt Rockerz 335, if you are interested to have more of your delightful listening experience.