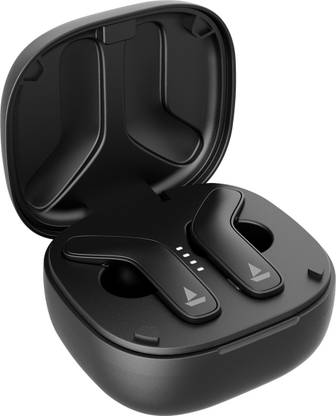 boAt Airdopes 711 Launched!!
This festive season will be remarkable with the newly launched boAt Airdopes 711 on Big Billion Days Sale 2020 on Flipkart. Recently this boat 711 tws has launched at Amazon India website with a 67% launch discount. So you will get this boat airdopes 711 true wireless earbud at 3,999 rupees for a limited time in flash sale.
The purely wireless boAt Airdopes 711 is the perfect audio electronic gift for your loved ones during the festive spree. The unparalleled design of the earbuds makes it aesthetically super awesome. Some more boat earphones and headphones recently launched by the boat brand in India 2021. Such as boat airdopes 621 with digital display, boat airdopes 701 with active noise cancellation(ANC) feature, boat airdopes 481v2 with aptX technology.
Boat airdopes 421 tws with long hook design, boat nirvanaa 1007 Anc active noise-canceling Bluetooth headphones, and boat airdopes 461 with in-ear detection technology launched in India in 2020.
Boat Airdopes 711 Price and Launching
The Active Black colour boAt Airdopes 711 is available at 4,999 INR. The feather-weight 5.7gm and adaptive fit earbuds go with smooth touch controls as you can command voice assistant remotely. The original price of boAt Airdopes 711 is 11,990 INR. Now this tws has available on Amazon website from Rs 3,990 rupees only.
Boat Airdopes 711 Specifications and Highlights:
TWS Technology
Dual Mic
50 hours Playback with Casing
Type-C USB port
Qualcomm aptX audio Technology
CVC 8.0 (TM) call noise isolation Technology
Crystal Mode
IWP Technology
Low Latency
IPX5 Splash and sweat shield
Bluetooth Version 5.0
Boat Airdopes 711 Bluetooth Headset Features Review, and Full Specs Details
A specific range around the earbuds is under wireless network coverage area. In the defined range one can stroll and speak over boAt Airdopes 711 with uninterrupted network. All this is possible only because of truly wireless Stereo (TWS) Technology.
Dual Mic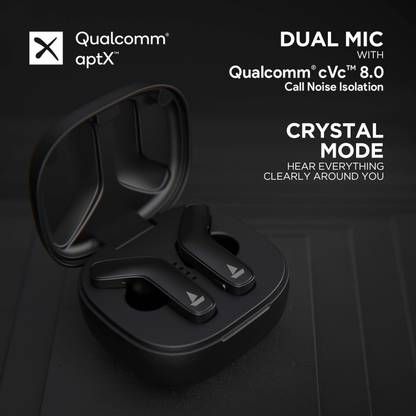 The implementation of the dual microphone in the boAt Airdopes 711 earbuds enhances the calling experience entirely. The long conversations with loved ones just got clean and clear.
50 hours Playback with Casing
The 470mAh battery boosts the battery life by 40 hours while the battery capacity of each earbud is 55mAh that in turn supplies 10 hours more playback time. This festival period, one can enjoy devotional songs blissfully at home.
Type-C USB Charging Port
The boAt Airdopes 711 steadily gears up to play again as it comes with the type-C USB charging port. Seamless charging is possible because of type-C port in the carry cum charge case.
Qualcomm aptX Audio Technology
The user will receive high-resolution audio with boAt Airdopes 711 earbuds as it supports Qualcomm aptX audio technology. Listen to every small detail in your music with this highly advanced Technology that supports 24-bit music quality over Bluetooth.
CVC 8.0 (TM) Call Noise Isolation Technology
Reduce external noise and experience the perfect conversation. This brilliant Technology in boAt Airdopes 711 makes call quality super. It provides you with absolute pleasure as you dive deep into the melody.
Also Read:
Crystal Mode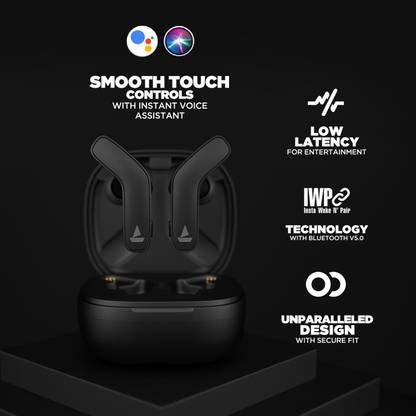 The crystal mode keeps you aware of the environment despite canceling all the clatter sound around. This characteristic is essential as you wear the earbuds while you drive and walk on roads.
IWP Technology
As soon as you open the casing, left and right earbuds pair with each other in no time. It is achievable only because of the implementation of Insta Wake and Pair (IWP) Technology in boAt Airdopes 711.
Low Latency
Gamers light up your mood as the boAt Airdopes 711 comes with low latency. The lag between audio and visual is less and provides an impressive sound as it employs 6mm large dynamic drivers.
Also Read:
IPX5 Splash and sweat shield
The high-water resistant rating helps you perform intensive workout sessions without any worries. There is no need to panic if it drops in water accidentally as it comes with IPX5 splash shield.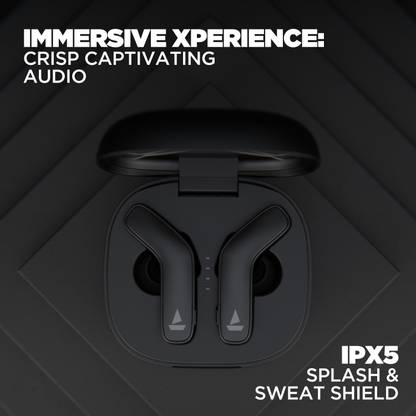 The implementation of a highly advanced version of Bluetooth 5.0 makes it highly desirable and economical. Listen clearly and talk as you like while you walk.
Avail 1year assurance service period from the date of purchase. Only manufacturing defect issue in the earbuds comes under warranty service. Begin the festive season as you tune into the beautiful music world with the smart boAt Airdopes 711 TWS Earbuds.