You are looking for the best true wireless earbuds under 3000inr (Rs.) to buy online. Then you can definitely buy Boat Airdopes 381 True Wireless earbuds. Today we will do Boat Airdopes 381 review and Boat airdopes 382 review in detail.
This earbuds has became Flipkart best seller within 1 month of launching date.
We will know the Boat airdopes 381 specifications and price in detail. The Boat company is known for making excellent audio devices.
Recently Boat has launched its new true wireless earbuds with the name of  Boat Airdopes 381 with capacitive touch control (CTC) in India.
In this review of the Boat Airdopes 381 true Bluetooth earphones, we will cover all the most useful features of Bluetooth headphones. We will also compare with boat airdopes 382.
Boat Airdopes 461 true earbuds and Boat Nirvanaa 1007 Anc(active noise canceling) Bluetooth headphones launched in India 2020.
We will review its sound and bass quality, battery backup of earbuds and charging case, connectivity, comfort, and many more.
Flip The Game is the tagline of this boat Airdopes 381 True Wireless earbud, written on its box.
Boat Airdopes 381 Earbuds Pair
Boat Airdopes 381 bass, sound quality, and battery performance are better than the Realme Buds Air True Wireless Bluetooth Headset.
You can read the comparison of Boat Airdopes 381 vs Realme Buds Air in more detail from here.
Boat airdopes 711 tws with 10 hours playback time in single charge launched in India 2020.
Boat Airdopes 381 Review, Specification in Detail
Sound and Speaker Performance
Boat Airdopes 381 comes with 7mm rhythmic dynamic drivers, and they produce immersive HD sound.
These wireless headsets have excellent sound quality output in this price range. It provides clear vocals and decent treble output.
Both earbuds are independent of each other, so we can use single(mono) earbud if we want.
If you listen to Edm music, instrumental sound, rock music, these headphones provide the best quality audio listening experience.
They produce deep boosted punchy bass. Boat airdopes have an inline mic. It provides Hands-Free communication with stereo calling functionality.
If you talk in a noisy environment, then you face some issues. But in a normal situation, it provides a clear calling output.
If you play PUBG game and want a truly wireless earphone, Which offers lag(latency) free gaming.
Then you can buy boat airdopes 381 wireless headset. It is the best true wireless earbuds under 3000 rupees in India.
These headsets provide delay-free PUBG gaming with thumping punchy bass, which makes your gaming experience more enjoyable.
If you are a pro player of the PUBG game, then you will get to see a little lag.
Boat Airdopes 381 Full Specifications
Headphone Type
TWS In The Ear Earbuds
Model Name
Airdopes 381
Connectivity Technology
V5.0+EDR
Bluetooth Profiles-HSP, HFP, A2DP and AVRCP
Battery Type
Lithium Polymer
Charging Case
500 mah( 4x charge)
Earbuds Battery
2 x 50 mah (4-5 hours)
Charging Voltage
5VDC
Microphone(Mic)
Yes, Supports Stereo Calling
Buttons Type
Capacitive Touch Controls(CTC)
Voice Assistant
Google/Siri
Audio
Deep Bass, HD Sound
Drivers
7mm x 2 dynamic
Sweat & Water Resistant
IPX5 Rated
Colors
Bold Blue
Frequency Range
20Hz-20KHz
Standby Time
300 Hours
Wireless range
10 meters
Domestic Warranty
1 Year
Buy Online
The improved version of Boat Airdopes 381 launched in India. The advanced version of boat 381 supports quick charging(Charge 5min Get 60min playtime) feature.
Also, the new version has launched exciting color options for different types of users.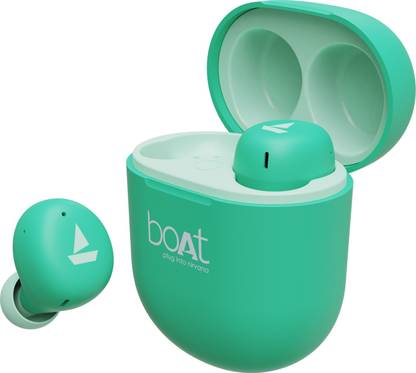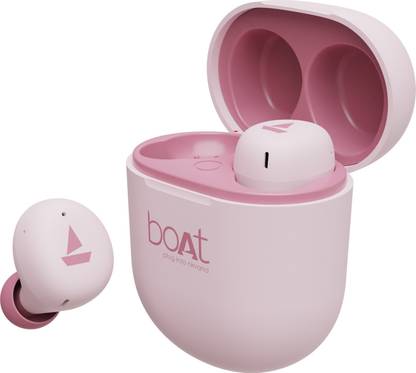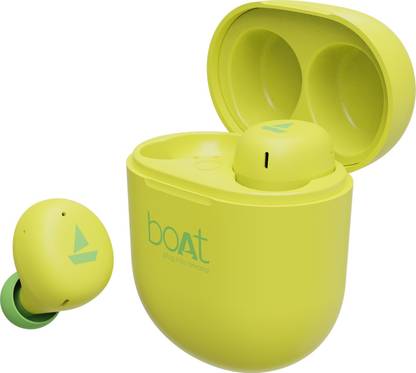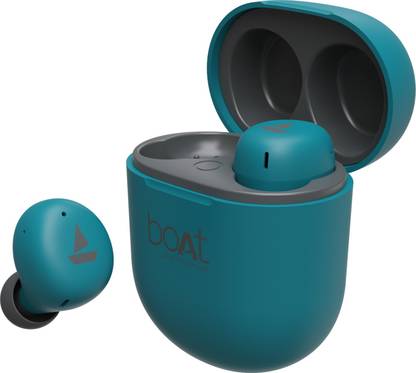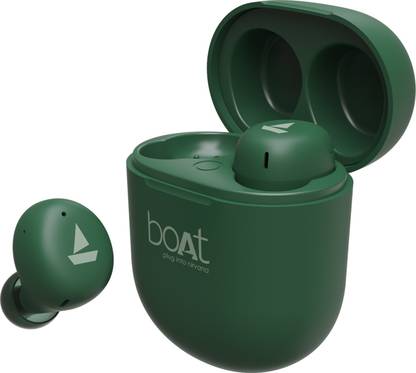 Design, Build, And Comfort: Boat 381 Review
Boat Airdopes 381 come with a rubberized stylish oval design. Boat airdopes come with premium  Hi-Tech design, and they are also lightweight.
The bold blue color looks stunning. The earbuds and charging case are made of high-quality plastic material with rubber finish.
The size of these earbuds charging case is compact, and we can easily hold it in our palm.
The charging case has a magnetic lock, which makes it more secure. This in ear earphones has IPX5 rated, which resistance it from sweat and water scares.
The ergonomically designed Boat Airdopes comfortable to wear in-ear. They do not get out of the ears easily during moving activity.
Boat 381 provides a good grip in ears so we can entirely focus on our physical activity.
Airdopes are suitable for gyming, jogging, and running also. The compact size carry case is easy to portable when you go outside.
Boat Airdopes 381 Review: Connectivity and Pairing
Boat airdopes 381 have the latest Bluetooth v5.0 offers seamless instant  wireless connectivity. The Bluetooth range is about 10 meters.
Boat airdopes has a smart power-on feature. When we take out earbuds from the charging case, then they are power on.
Earbuds will automatically go into scan mode for the first time.
The blue/red light indicates earbuds are ready to pair with your Bluetooth device.
Now you can connect to Boat Airdopes 381 by searching from your Bluetooth device.
To power off the earphones, you can put both the earbuds back into the charging case.
Boat airdopes 421 true wireless earbuds launched in India recently.
Boat airdopes 381 have easy access controls button. Each earbud has a capacitive touch controls button panel.
We can perform many functions with these touch buttons. You can't change the volume level of these earphones by capacitive touch buttons.
You have to use your Bluetooth device to change the volume.
Single tap –  you can pause/play audio, take calls, and cut the ongoing call.
Long tap and hold – Press left/right button of earbud for 2 seconds to activate Siri/Google assistant.
Switch off the earphones by pressing both earbuds touch buttons for 3 seconds.
Double Tap – Reject call, double-tap on the right earbud to play next track, double click on left earbud to play the previous track.  
Earbuds and Carry Case Battery Backup
The battery of these earbuds gives excellent music playback time. A 500mah rechargeable battery is put inside the charging case of the Boat Airdopes 381.
Each earbud has a 50mah built-in battery. Music playing time of boat airdopes earbuds is between 4 to 5 hours with one time full charging.
The carry case can charge these earphones 3 to 4 times. The Charging case takes 1.5 hours to 2 hours for complete charging.
It also has a battery level indicator for iPhone devices. The carry case battery life indicator shows in a wheel format.
Boat Airdopes 381 Pros and Cons
Capacitive Touch Controls(CTC)
Decent Battery Life Up to 6 Hours
Premium Hi-Tech Rubberized Design
Boat Airdopes 381 Vs 382 Review: Comparison, Difference
If we compare Airdopes 381 and 382. So we will see that both earbuds have the same design, same features, same sound quality, and all other specifications are exactly the same.
But there is only the color difference between these two. The boat airdopes 381 is available in bold blue color, while the boat airdopes 382 is available in active black color at Flipkart.
So please don't get confused between boat airdopes 381 and boat airdopes 382 Bluetooth headset.
Verdict(Conclusion): Boat Airdopes 381 Review
You are a person who is looking for the best true wireless earbuds with touch control buttons under Rs 3000 and high-quality audio performance. Decent battery backup upto 5 hours.
Then you can surely buy online the Boat Airdopes 381(Flipkart).
Boat 381 Price on Boat Website
Because it offers touch control buttons. It has excellent sound quality and super extra punchy deep bass.
They provide a hands free stereo calling. These features do not provide any other true wireless earbuds within this price range.
We saw the boat airdopes 381 review and boat airdopes 382 review in detail. I hope you have liked this review.
If you have any questions about the boat airdopes 381 review, then you can ask through comments.
Thank you for reading this review guide. You have a good day.