The soundbars manufactured by boAt have created a special niche in the Indian market, for their outstanding performances, long-lasting battery life, and incredible features. Customers have previously expressed positive reviews for boAt soundbars like boAt Aavante Bar 3150D or even boAt Aavante Bar 1600D.
If you have used these products, then boAt has another card up its sleeve. It is introducing the all-new portable soundbar boAt Aavante Bar 550, which happens to be the next device in the pipeline, after boAt Aavante Bar 500. The new product is notable for its stereo sound and enormous playtime.
Price and Launching Date:
Flipkart has set the price at Rs. 3,990 for boAt Aavante Bar 550. However, the device is yet to reach the Indian market, and the launching date has not been announced. So, without much ado, hit the "Notify Me" button on the Flipkart page to receive further updates. And in the meantime, if you are interested about other boAt products, you should check out boAt Aavante Bar 1500.
Specifications and Details
Brand
boAt
Name of the Model
Aavante Bar 550
Bluetooth Version
The version of Bluetooth is 5.0
Wireless Range
It covers a 10 meters range
Power Output (RMS)
16W
Battery Time
Up to 4.5 hours
Special Features
Multiple Connectivity, Master Remote Control, Dual EQ Modes
Available Colour
Black
Price
Check Best Price Online

Check Latest Price on Boat Website
Details of boAt Aavante Bar 550
The all-new boAt Aavante Bar 550 has a sleek appearance, with dimensions of 6x7x42 cm. Its black body and smart look will certainly enhance the mood of your day. You will receive an immersive audio quality on this exciting new device, which has been specially designed to provide you with deep bass, along with balanced sound for watching movies and listening to music.
The Dual EQ Modes, a special feature of boAt Aavante Bar 550, helps you choose the particular kind of sound you would prefer, which would be proportionate to the colours of your mood. You can switch from a pulsating bass to a more balanced nature of sound, using the Dual EQ Modes. The device provides crystalline stereo sound, with a massive 4.5 hours of playtime.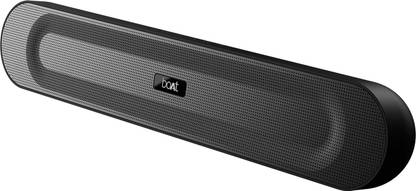 Connectivity:
The device is equipped with Bluetooth (Version 5.0). It encompasses a range of 10 meters of wireless connectivity. This facilitates unlimited streaming of music from any mobile device. Moreover, boAt Aavante Bar 550 also provides wired connectivity. You can use AUX cable, TF card, or even USB to remain plugged into the world of music.
The device comes with a master remote control, to adjust different features and aspects of the device from a distance, like volume. This multiple connectivity makes this device an indispensable product for your listening hours. These features will be familiar to you, if you are acquainted with boAt products like boAt Aavante Bar 1160, or even boAt Aavante Bar 4000DA.
Battery:
The brand new boAt Aavante Bar 550 has a power output (RMS) of 16 Watts. The long-lasting battery helps you to enjoy 4.5 hours of playtime with one-time charge. The Type-C charging cable, which is provided with the pack, prevents you from worrying about top or down orientations, and you can easily plug the cable in and let it charge without much hesitation.