Do you often fret over the high-priced earphones that usually remain unexplored by you?
Or, are you someone who believes in making wise decisions without ever compromising on quality?
If the latter one is you, this article will surely help you in finding the earphones that deliver the best results.
Many earphones offer a different quality that brings the best of the outcome. And the same goes for the kind of choices you make with the pair of earphones.
To keep you intact with the music that sounds true to the original, we have compiled a list of the best JBL earphones under 1000.
Reviews of The Best JBL Wired Earphones Under INR 1000 in India 2021:
Without further ado, let me put down the list of best JBL wired earphones under 1000 that shares the best deal to go unnoticed.  
If You Are Interested in Bluetooth Earphones Then Check These Posts
JBL C100SI Wired Earphones
Best in-budget Earphones
Specifications
Colors: White, Black, Red
Microphone: Yes
Driver Input: 9.5mm
Frequency: 20hz-20khz
Sensitivity: 100mW
This is by far the most known fact that JBL has a top-notch quality that also feels like a treat to the ears. Also, having the best jbl earphone under 1000 is surely a great deal.
With JBL C100SI, you can expect nothing less than a wholesome package. These in-budget earphones have been designed to ensure that you get everything at less expense.
Talking about the earphones, you will be pleased by its metallic design that also ranges in 3 colors(black, white, and red). The plastic finish over the housing captures all the attention keeping aside the rubberized ear tips which also feels comfortable.
If focused on the sound output, the bass, mids, and highs will appear perfectly balanced. The volume range of 70-80% will keep a balance for the best audio.
These angled-fit earphones will be a sure shot if clear vocals are something that you want to focus on. Features like an in-line remote with a button and mic is an impressive quirk. 
The only negative point we could find was the poor quality cables. Likely to tangle, though if used properly can be a great use.
2. JBL T160 Wired Earphones
Best for balanced sound

Specifications:
Color: Black, Blue, White
Microphone: Yes
Driver Input: N/A
Add-on Features: Voice Assistant
If you like the balance of bass and treble quite endearing, then you have got this deal packed up. These earphones by JBL are the best-wired headset under 1000.
Not being punchy or low on bass adds an extra benefit to users who listen to all types of songs.
With a sturdy build quality, you can own this great piece that carries tangle-free cable and angular jack. The inclined jack will help you to use them while you rest or drive.
In terms of vocals, there is a focus on every vocal appearing clear to identify the beats of the instruments too. The clarity blows out so well that the interrupted noise in the background remains easy to handle.
With features like a one-button remote with mic, things get fairly easy. The clarity during calls is quite impressive that you can even hear the low-tones from the other end.
JBL Tune T215 Bluetooth headset has launched in India. The build quality could be improved as it has rubber-made ear tips that can pain your ears after a few hours. 
3. JBL C150SI Earphones
Best in Rich Bass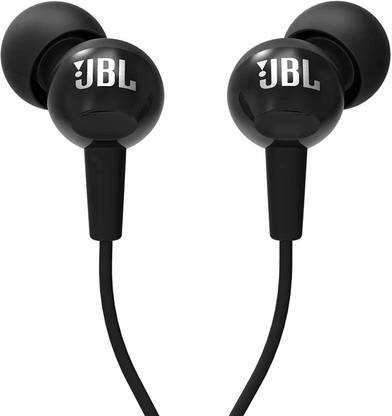 Specifications
Colors: Black, Red, White
Microphone: Yes
Frequency: 20hz-20khz
Connector Size: 3.5mm
Cord Length: 1.2 meter
Compatible Devices: iOs, Windows, Android
If the music with a lot of bass keeps you groove in fun, then these pairs of headsets are the best JBL headsets under 1000.
Apart from rich bass, the range of mids and highs remain clear and to the point. These class-apart earphones are well-known for their design too.
The metallic finish on these earphones makes them look stunning and resist stain and tear issues. The in-line remote has a single button and mic to attend calls and control the music.
Also, the best thing about these pairs is its ability to control bass taking over treble at full volume. The clarity appears too good if you listen to soft music. 
With such qualities, it is impossible to avoid them, that too, when the price seems less intimidating. Had the cable be tangle-free, it would have been less a task to clear them over and above again. 
4. JBL T210 Earphones
Best in Pure Bass
Specifications
Colors: Black, Grey, RoseGold
Microphone: Yes
Weight: 14 grams
Driver Input: 8.5mm
Connector Size: 3.5mm
Cord Length: 1.2 meter
Compatible Devices: iOs, Windows, Android
If the low-frequencies in headsets give you relief, then these will be the best wired JBL earphones under 1000. Being low-bass, these pairs of earbuds are the right fit for Sufi, melodious, or smooth versions that hit you on a different level.
The use of aluminum over the buds escapes them from dust and scrap. While the silicone touch to the ear-tips feels light for all-day use. Also, the cable used is quite flexible and remains apart, keeping things less messy.
When it comes to sound quality, even being a low-bass product, the high pitch tracks seem perfect to not break off the low bass. Even the crispy effects have not been neglected and used well in place. 
This pair of earphones features a remote to pause/play tracks and a mic with a noise-cancellation feature.
5. JBL C200SI Earphones
Best for light and soft music
Specifications
Colors: Gunmetal, Ice Grey, Mystic blue
Microphone: Yes
Weight: 18 grams
Driver Input: 9mm
Connector Size: 3.5mm
Cord Length: 1.2 meters
Compatible Devices: iOs, Android, Windows
If you love those earphones where you don't have to muddle up with the settings to turn the volume over and again, then we will suggest buying these best JBL headphones under 1000.
High treble means high pitch and high pitch would allow you to enjoy the tracks even at a volume of 60-70%. Known for high frequencies, the music travels at par with the lows and mids sound effects.
The metallic designed earbuds come with 3 color options ranging in Gun Metal, Ice Grey, and Mystic Blue. They weigh just as 18 grams light, which also won't feel like it. With facilities like a single remote, including mic, the music and call controls rest upon you. 
The JBL C200si also carries the best sound clarity that makes your hearings sound brighter. With such clarity, you will be able to notice the noise reduction feature that works pretty well.
Inside the package, you will also see 3 pairs of different sizes and a warranty card.
6. JBL Tune 110 Earphones
Best in Overall Sound Quality
Specifications
Colors: Blue, White, Red
Microphone: Yes
Weight: 14.2 grams
Driver Input: 8mm
Connector Size: 3.5mm
Compatible Devices: Android, iOs, Windows
The older version of Tune210, this set of earphones by JBL has an upper hand towards better sound quality. Unlike the newer version T210, these earbuds are inclined towards every sound effect, not limited to the bass.
The simple looks of these earphones can appeal to users and are lightweight to carry for hours. The tangle-free cable and angular jack are safe to keep them inside the pocket. Even the add-ons like a single-press button with a mic bring a great deal at such a low price.
In terms of sound output, every vocal appears true to the original and won't disrupt the clarity. Also, the bass is decent but is not really punchy to listen to electronic music. 
The only point that could be improved is that sound appears quite ear-piercing in full volume. Though for every sort of music, this earphone will be class apart.
7. JBL C50HI Earphones
Best in lightweight
Specifications
Colors: Red, Black, White
Microphone: Yes
Weight: 12.5 grams
Frequency: 20hz-20khz
Driver Input: 9mm
Sensitivity: 16ohm
Cord length: 1.2 meters
Compatible Devices: Windows, Android, iOs
The best thing about buying this pair of headsets is its 12.5-gram weight which also makes it the best wired JBL earphone under 500. Being so light, it feels very handy and comfortable at the same time.
Its design looks simple and covers plastic all over its surface. For a modern structure, the ear tips have a 90-degree curvature to reach inside the ear firmly.
Talking about its features, the earbuds carry a universal button with a mic to its side.
The audio clarity during calls feels super good that even the whispering sound could be audible.
The long-press of the button activates voice controls like Google Assistant or Siri. 
For the best sound quality, the makers have kept the bass neutral and the mids and highs are average too. You will find a pair of headsets, 3 different sized ear tips, and a warranty card. 
8. JBL T50HI Earphones
Best for voice calls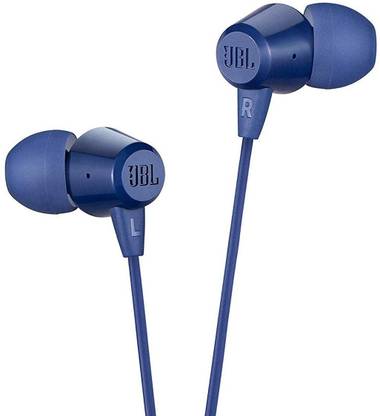 Specifications
Colors: Black, Blue, Red
Weight: 15 gram
Microphone: Yes
Driver Input: 8.6mm
Frequency: 20hz-20khz
Impedance: 32ohm
Sensitivity: 101dBmW
If you are someone who owns headphones to get better clarity during voice calls, then we bet this piece will be the best JBL earphones under 500.
With in-ear fit, the headset fits in right to the shape of your ear, which also feels light to wear for long hours. The design looks simple with a touch of plastic coating to its exterior.
The twin cable is flexible with a 1.2-meter length and reflects superior build quality. Also, the string carries a remote that can be used to control the music or attend calls. Paired with mic and volume controls, these are the best wired JBL earphones. 
To provide more for sound quality, the bass seems clear to the point that it allows space for mids and high range too.
9. JBL Tune 205 Earphones
Best for comfortable use
Specifications
Colors: Blue, Silver, Gold, RoseGold
Microphone: Yes
Type: Earbud
Weight: 14 Grams
Frequency: N/A
These pairs of earphones by JBL have a sleek design with a metal coating to its ear cap. Being lightweight, they are well-framed to fit any ear size.
Having a shape like that of an AirPods, these headsets will be a comfortable piece for users who dislike in-ear types. The JBL Tune 205 is comfortable to wear for long day use which makes them the best JBL wired headsets under 1000.
Unlike its competitors, these pairs look stunning and feel the same when you tune in your favorite tracks. Highly driven by the best sound quality, the music feels like heaven.
Its features include tangle-free, flat cable, an in-line remote with mic that gives awesome clarity from both ends.
This also includes a pouch to keep them neat and clean. 
However, the headsets fail to control the outside noise which makes them hard to wear outdoors. Also, the length of the cable makes them unfit for pocket use.
For that matter, it is best to wear them indoors to hang on them for the best music quality.
10. JBL endurance sweat-proof Earphones
Best for work-out sessions
Specifications
Colors: Black, Blue, Red, Teal, Yellow
Weight: 32 grams
Microphone: Yes
Driver Input: 8.2mm
Frequency: 20hz-20khz
Connector Size: 3.5mm
Compatible devices: Laptop, Mobile, iPad, iPhone, Android
These headsets by JBL are designed for users who like to listen to music in their workout routine. Made for dual-mode use, the flipbook technology makes them the best JBL headphones under 1000. In simple terms, one can use them in-ear or behind the neck.
In terms of build quality, flex soft technology adds extra protection against long day use. Being twist-lock, these earphones can be locked inside ears by just a slight roll to escape fall out.
Also, if we talk about its sound, the vocals will leave you impressed by its amazing range. Due to its design to remain locked in, these can be titled as the best noise-canceling earphones too. 
To enjoy the loud music, the treble performs at its best even in high volume.
However, the low bass could be a little disappointing for listeners who prefer deep bass. Though that can be balanced if you use an equalizer in the settings.
Conclusion: Best JBL Wired Earphones Under 1000 in India 2021
JBL brand has been known for offering noise-reduction, which in turn brings out superior clarity. As far as inferring the best JBL earphones under Rs 1000 INR to be questioned, every earphone by the brand JBL stands different from its identity.
The C100si is one-of-a-kind earphones that offer the best price segment too. The model has captured a lot of attention due to its overall quality, in balance with the different sound effects. The pair is one of the best wired JBL earphones under INR 500.
Apart from that, if rich bass is your thing, then consider JBL C150si that blows the deep bass and is styled with a classic design.
Frequently Asked Questions:
Ques1. Are in-ear type earphones suitable to any ear size?
The in-ear type earphones are mostly available in default size that fits right to any ear size. However, the three different sized extra ear tips available with them can be used according to your ear size. 
Ques2. What are the 5 best earphones under 500 rupees?
The top 5 earphones under 500 are as follows:
JBL C100SI Earphones
JBL T160 Earphones
JBL C150SI Earphones
JBL Tune210 Earphones
JBL C200SI Earphones
Ques3. How to clean the earphones?
The best way to clean the earphones can be learned by these steps:
Use a damp cloth to let go of the dirt built on the outer area of the ear tips.
Clean the build-up wax inside the ear meshes by using a cloth dipped in Isopropyl alcohol.
You can also use your old toothbrush to get rid of the stains by rubbing alcohol-based sanitizer.
Ques 4. What is the best quality that makes the earphones last long?
Apart from quality and its features, you must not ignore the size of the jack. Usually, the 3.5mm tends to fit every device, yet a lot of devices hold a different number to fit rightly to the device.
Ques 5. Do in-ear type earphones connect every device?
Yes, every headset listed above has been made ergonomically keeping in mind every set of devices. Operating systems like Android, iOs, and Windows operated devices remain some of the best devices that can easily plug in the in-ear type earphones.