The brand image speaks for itself and when it comes to brands in the audio market, JBL has been the favorite of many listeners. This American brand believes in presenting the best of its services, and it has been successfully doing so to this day.
Featuring headphones, home theater, in-ear earphones, and earbuds, the range in varieties has been the secret to its powerful growth. In this article, we will cover the best JBL Bluetooth headsets in India.
The JBL often considers Beat, Bose, and Sennheiser as its rivals, but the main reason why people choose them over others is their durability.
Unlike wired earphones, the brand offers its Bluetooth operated wireless series that pictures everything that a good audio product should possess.
Wired Vs. Wireless Earphones
The comparison of these two entirely different types of earphones are self-explanatory. And, if you wonder why to bother so much on its difference, then either you are ignorant or less aware of the facts.
One may think that only the freedom from wires creates a difference here, but there is so much to see beyond this point. The sound, build and technology used in wireless models are way better, (keeping aside its other premium features) than the wired earphones. 
Reviews of the Best JBL Bluetooth Earphones in India 2021:
To shed light on the other aspects that make them unique, we have listed the best JBL Bluetooth earphones available in the market.
JBL E25 Bluetooth Earphones
Specifications:
Type: In-ear
Drivers: 8mm
Microphone: Yes
IPX: N/A
Battery: 8 hours
Bluetooth: 4.1
Talk about the best sound quality earphones that cost so less than the standard rates, then this E25 model should be a priority.
Being just the right in size, the cost of these classy earphones gives a tough competition and falls just under the category of the best JBL Bluetooth Earphones under 2000.
Designed with rich plastic, the exteriors look simple and neat to be easily understandable. The markings on both sides are a nice way to help you focus on its comfortable use.
When you put these earphones on, you will be surprised to know how amazing the sound is. Even the tiny beats of the instruments and background sound have been taken care of by the makers.
The 8mm drivers create a true "JBL signature sound" with pure bass that the brand always focuses upon. These are the best JBL Bluetooth Earphones in terms of their weight too.
It features buttons which can be used to pause or play music, if you need to attend calls. Also, a mic just below the button lets you take calls hands-free.
Packed with a battery, the 8 hours of life will give you uninterrupted music with a 1-hour charge.
For connectivity, Bluetooth 4.1 pairing helps for instant transmission.
2. JBL Endurance Run Earphones
Specifications:
Type: In-ear
Drivers: 8mm
IPX: 5
Microphone: Yes
Battery: 6 hours
Bluetooth: 4.1
If the plan is to buy a piece that not only looks classy but also feels loyal to the ears, then this JBL endurance Run is the best JBL wireless earphone.
The sports-fit design takes away all the risk of falling off while you use them during your workout. The best thing is its in-built design that keeps them well-framed to the ear.
Looked upon as budget-oriented, this model captures interest due to its Flexsoft design that can be worn all day long. Even if you expect sudden rain while running or you sweat heavily, there is no failure on its part.
This one is the best JBL Bluetooth headset that also has a flip hook design to be worn either in-ear or behind the ear. To say the least, the neckband feels soft to work either way. 
Taking this headset home would make you believe in magic since they have a well-tuned bass that hits right to every range. Without being too loud, these earphones are great in-budget to tune in your favorite tracks.
Allowing voice controls and 3 button remote, users can easily pause or play music. While the Google Assistant or Siri helps to take your commands, the built-in mic has a noise-free feature too.
You can use them for 6 hours with a 2-hour charge, although the battery drains faster if used only for calls.
3. JBL Endurance Jump Earphones
Specifications:
Type: In-ear
Drivers: 8mm
IPX: 7
Microphone: Yes
Battery: 8 hours
Speed Charge: Yes
Bluetooth: 4.2
Just like noise-cancellation headphones, the JBL has moved to design earphones that cancel outside noise to its best efficiency.
These in-ear endurance series are quite a popular name for sports use. The reason has been the ear-hook design that lifts to the ear preventing any fall off.
Being just as stylish as its similar endurance series, the power hook technology is another rich feature that titled them as the best JBL Bluetooth Earphones. The feature lets you avoid the hassle of turning the earphones on and off manually because of its automatic controls.
To keep it short, the automatic power on/off before and after use is a key. Even the IPX 7 rating keeps them going after heavy rainfall or sweat.
Talking about its functions, the smart touch controls come in handy to change tracks or attend calls. The voice assistant leads to better command in less time.
The sound flows stunning and does not feel distorting if used at 70-80% volume.
Having a battery of 8 hours with a speed charge is a plus. The speed charge grants 1-hour extra playtime with just 10 minutes charge.
4. JBL T160BT Earphones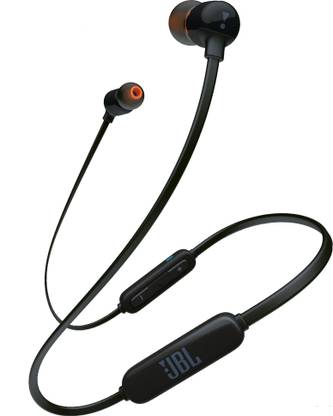 Specifications:
Type: In-ear
Drivers: N/A
IPX: N/A
Microphone: Yes
Battery: 6 hours
Bluetooth: 4
The JBL has come up with the best of its wireless models that either feels too expensive or lack basic needs but with the best JBL wireless headset of the T160 model, you can never go wrong.
Famous for being within budget, it is the best JBL Bluetooth earphones under 2000, these earphones sound just as awesome as the quality one gets in Airpod earphones.
Carrying a simple design with 3-button remote and a mic, you get what you pay for. Even the clarity at this price is worth a glance for first-time users.
In terms of the sound output, every range remains true to the original. Even the low whispers are audible if used for music or calls.
For connections, this is the best JBL Bluetooth Headset with a Bluetooth 4 version that enables seamless pairing with 6 hours battery life. In less than 2 hours, the device recharges to 100%.
However, no voice commands at this price is an absolute let down. 
5. JBL T110BT earphones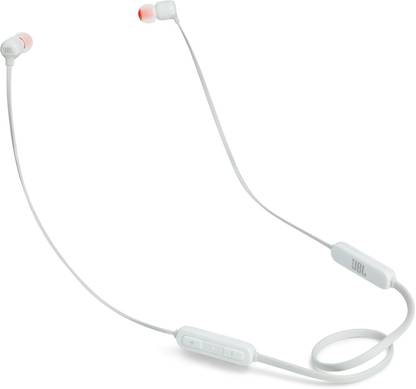 Specifications:
Type: In-ear
Drivers: N/A
IPX: N/A
Microphone: Yes
Battery: 6 hours
Bluetooth: 4
If you are a lover of soft melodies and stays far away from metal or thumping music, then this is the best JBL Bluetooth earphones under 2000.
Being affordable, it's hard to take your eyes off these earphones as they are loaded with the best sound output that makes them the best JBL Bluetooth Headset.
In terms of the build, the looks are premium and feel lightweight for use. The tangle-free cable and flexible neckband sit easily on the skin without being too harsh. The basic controls of pause/play/change tracks are neat apart from the high-end mic.
Some may find the bass to be a bit less but they are designed mainly for soft music with less bass.
Packed with 6 hours battery, the risk of being left with less of the battery for calls can be dangerous. Although if you are a casual listener who enjoys 2-3 hours of music, then these earphones are the best.
Within the range of 8 meters, the Bluetooth pairing has been kept easy and less strenuous.
6. JBL 205BT earphones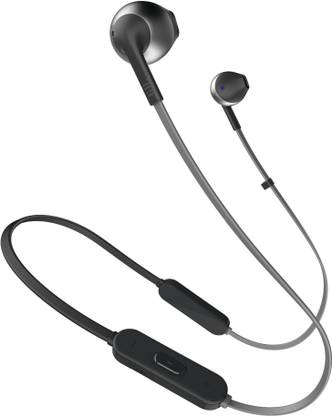 Specifications:
Type: Earbud
Drivers: N/A
IPX: N/A
Microphone: Yes
Battery: 6 hours
Bluetooth: 4
For users who are into earbud-style, or who do not prefer in-ear type headsets, then this device claims to be the best JBL wireless headset.
The build looks decent yet away from the fancier earphones at the same price. The round ear tips are small and convenient to keep intact over the canal.
One side of the cord has a 1-button remote to take calls while pausing tracks at the same time. The flat cable looks sturdy and calls for attention if durability is your priority.
In terms of music, the sound is precise to the point of not being extra at any range. Even the bass is adequate and not too heavy for listeners to enjoy smooth playtime.
For pairing, these Bluetooth enabled earphones are light and can be used for 6 hours. The recharge takes about 2 hours if only music is played.
7. JBL Endurance Sprint Earphones
Specifications:
Type: In-ear
Drivers: N/A
IPX: 7
Microphone: Yes
Battery: 8 hours with speed charge
Bluetooth: 4.2
If you are a fan of the endurance series and like its sports-fit design, then this model is the best JBL wireless earphone to own your ears.
The classic design with premium quality finish makes them stylish and unique in looks. Focused on secure fit, the ear hook design can take away the pain that causes after use.
Weighing just as thin as paper, they are easy to carry even for 24 hours. Be it any sport or exercise sessions, they work just as right to what the product advertises.
Also, the IPX 7 rating gives the freedom to use them in acute weathers or heavy workouts. Infused with twist lock technology, the earphones remain inside blocking every external noise.
Taking its sound output, these earphones are a must-have for a well-balanced sound in all respects. With smart touch controls, you can be sure that using them will be fun.
There is an 8-hour battery life with a speed charge of 1 hour extra with 10 minutes of recharge.
8. JBL Live220 Bluetooth Earphones
Specifications:
Type: In-ear
Drivers: 8mm
IPX: N/A
Microphone: Yes
Battery: 10 hours with speed charge
Bluetooth: 4.1
Above all the premium features that wireless earphones offer, this model by JBL provides advanced options that seem worth the purchase.
This Live220 model is the best JBL Bluetooth earphones with a classic touch which deters not even a bit on your safety. The 3 color variants earphone has an aluminum braided cable to shed off the fear of wear and tear.
Even the casing has a metallic touch that looks glossy and convenient to attach the ear tips when inactive.
To offer safety and a hands-free experience, the Ambient aware and Talk thru technology has been included. The Ambient Aware can be useful to hear outside noise while keeping them on. While the Talk thru means that you can simply chat with a person beside you without having to power them off.
Functions like smart touch sensors to control music and voice commands like Alexa is a really impressive idea.
This model by JBL lives up to the standard of deep bass lovers without being too harsh on high range frequencies. Overall, this is the ultimate piece of pleasure for the best sound quality.
No matter your music preference, you can also customize your choices with its in-built My JBL Headphone App.
In terms of battery, 10 hours of consistent use and 1-hour extra with 15-minute recharge goes a long way.
9. JBL Reflect Mini Earphones
Specifications:
Type: In-ear
Drivers: 5.8mm
IPX: 4
Microphone: Yes
Battery: 8 hours
Bluetooth: 4
If you are someone who remains indulged in sports or gym, then this model by JBL is the best JBL wireless headsets and is fun for a workout session.
Being as light as paper with 2 grams weight, you will hardly feel them inside your ears. And because of their weight, they are quite comfortable in design too.
Made with rich plastic, the hook design keeps them stay for long hours. That is to say, avoiding the efforts of pushing them back over and again.
Also, the IPX 4 rating helps to carry them while you jog or walk outdoors.
For decent sound, the 5.8mm drivers throw stunning sound with equal emphasis on clarity.
On 8 hours of battery life, you get smooth music without having to charge the earphones frequently.
10. JBL Live 200 Bluetooth Earphones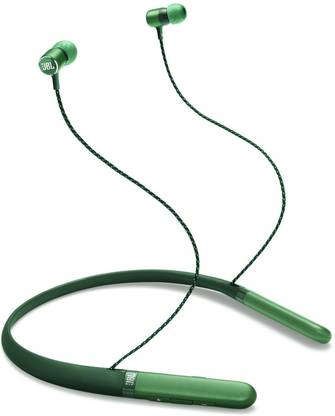 Specifications:
Type: In-ear
Drivers: N/A
IPX: N/A
Microphone: Yes
Battery: 10 hours
Bluetooth: 4.2
For music freaks who stay close to the music wherever they go, this JBL product is worth a glance.
With a 10 hours battery, you will be amazed to use them during long travel hours. For the best fit, these are the best JBL wireless earphones, designed in tune with the current trend and fashion.
To add elegance, the casing has been done with matte plastic with a magnetic touch on ear tips. The neckband feels soft and the aluminum-coated cable has braids to secure them for long life.
A 3-button remote adds the basic function to control music and attend calls without taking your phone out. Likewise, for clear-cut calls, the microphone has been placed in front for the best sound from both ends.
The voice commands are also included to get an immersive experience of smart music playtime.
In terms of sound output, these are the low sound earphones with a focus on the mids, highs, and lows.
Conclusion: Best JBL Earphones in India
Over more than 100 models have been launched and attained success but when it comes to finding the best, each one of these JBL earphones has something to offer.
To conclude, for the best experience, you can consider JBL E25 Bluetooth Earphones. They are the best JBL Bluetooth earphones that raise the bar of wireless models by JBL. 
Another great in-budget earphones that serve the purpose is JBL T160 Bluetooth Earphones. They are affordable, classy, and have top-notch clarity that will make you groove to their tunes. 
And, for sports-freak who cannot resist music while keeping their game on, the JBL Endurance Run won't make you run for the money. Being budget-friendly, the sound is addictive and stays fixed even if you use it during a workout.
Frequently Asked Questions:
Ques. 1. Why to choose JBL earphones?
The JBL brand has been the only American brand that has a share of equal margin in both the offline and online market. The reason why people choose this brand over others relies solely on its durable factor. 
Only if you own one, you would know the accuracy and quality that JBL offers.
Ques. 2. What are the top 5 JBL Wireless Earphones?
The top 5 JBL Bluetooth earphones are:
JBL E25 Bluetooth Earphones
JBL Endurance Run Earphones
JBL Endurance Jump Earphones
JBL T160 Bluetooth Earphones
JBL T110 Bluetooth Earphones
Ques. 3. What makes JBL T160 and JBL T110 series different?
Both the models T160 and T110 are economical and give crisp sound quality. However, when it comes to bass, the T160 is on a slight rise where the T110 can be used for soft melodies. Also, the battery life is much better in T160 in comparison to the T110 model which can be used for 3-4 hours. 
Ques. 4. Does JBL give a lifetime warranty?
No, the brand does not provide a lifetime warranty. Usually, the brand offers a 1-year warranty.
Ques. 5. How good is the customer service of the JBL?
JBL brand has an average customer service that can be checked on the company's website. However, add-ons like 3 sized ear tips, the USB charger, a user manual, and a warranty card are provided with the product. 
Note: For extra safety, the brand provides a neck clip and a carry pouch.