The boAt company's marvellous creations have been setting technological milestones, and who can forget its wonderful ventures in the world of Bluetooth neckbands and headsets? The customers, who have had the experience of using devices like boAt Rockerz 205 Pro, or boAt Rockerz 335, will certainly choose the boAt brand over the other brands for their performance, features, and battery life.
By the way, did we just forget to mention boAt Rockerz 330 Pro? But, now, let's have a discussion about boAt Rockerz 333 Pro, which certainly going to make a change in the coming days.
Price and Launch Date
The current price of boAt Rockerz 333 Pro is Rs. 1,499, offered by Flipkart. The original price was Rs. 2,990, but Flipkart is giving a 49% discount on the device. The device will hit the market on 6th December 2021, so click on the button stating "Notify Me," to receive further updates.
You will get one year of warranty on this upcoming Bluetooth neckband, which will be issued from the purchase date of the device. You can also have a look at the boAt Bluetooth neckband collection, featuring boAt Rockerz 255 Pro Plus and boAt Rockerz 355.
Specifications and Details
| | |
| --- | --- |
| Brand | boAt |
| Model Name | Rockerz 333 Pro |
| Bluetooth Version | 5.2 |
| Wireless Range | 10 m |
| Battery/ Battery Life | One Lithium-Ion Battery, 60 Hours |
| Charging Time | ASAP charge, 10 minutes |
| Special Features | ENx Technology, IPX5 Water Resistance, Dual Pairing |
| Sales Package | 1 Headphone, Extra Eartips, User Manual, Charging Cable, and Warranty Card |
| Available Colours | Teal Green |
| Price | Check Best Price Online |
boAt Rockerz 333 Pro: Details and Specifications
Design of the Device:
The all-new boAt Rockerz 333 Pro is available in Teal Green shade, which makes it look flashy and smart. The behind the neck design of this Bluetooth neckband, along with its lightweight structure, makes it easier to wear and plug into the ears for the entire day.
However, the product is not foldable or collapsible. The microphone attached to the body helps you communicate without much hassle and receive a call.
Sound:
Immersive audio quality is a characteristic feature of all best boAt neckbands, and boAt Rockerz 333 Pro is not an exception. The signature boAt sound provides the user with an impeccable aural experience and heightens auditory pleasure. The device offers a large playback time of 60 hours, so you can easily tune into your favourite songs and listen to them all day without thinking much about the battery drain.
Since boAt Rockerz 333 is equipped with the ENx Technology, it is able to deliver first-rate calling experience and minimizes any kind of distortions in the call. Easy storage is supported by the magnetic earbuds, which enhance the listening experience.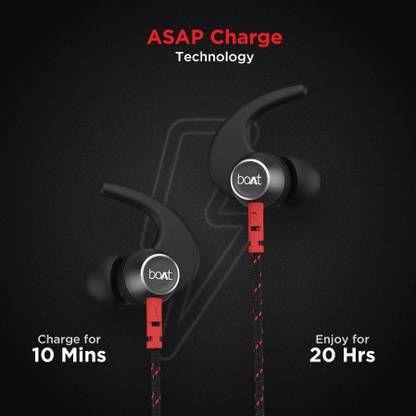 Wireless Connectivity:
The all-new boAt Rockerz 333 is essentially wireless, and it is supported by the latest Bluetooth version (Version 5.2). It covers a range of 10 meters. Moreover, dual pairing feature is an additional aspect of this device. You can pair more than one device with this Bluetooth neckband and extract a sublime listening experience to the last bit of it.
Battery Life:
The device is powered by one Lithium-Ion battery. The battery time extends up to 60 hours. The device comes with an ASAP charging feature, so you can get 20 hours of playtime, with just 10 minutes of charge. Strong and durable battery is an especial feature of all boAt devices, so you can without an iota of worry enjoy long hours of music, without thinking about battery drain.
Water Resistance:
The latest boAt Rockerz 333 Pro is supported by the IPX5 Technology, which shields the device from the corrupting influences of water and sweat. So you can walk around the park on a rainy morning or a humid day, without giving much heed to the integrity and safety of your device.