Acer may not be as popular as HP company or even the Dell company when people consider buying laptops, but it is by no means a new company. It was established back in 1976, and it is still thriving today.
Recently it has launched the Acer Predator Helios 300 gaming laptop with RTX 2060 graphics model under 100000(1 Lakh) rupees in India during Flipkart big billion days sale, and it is great news for gamers all around the world.
It is so because this new model is faster and more efficient among gaming laptops, and gamers will want to buy one when they go on a virtually impossible mission.
Furthermore, it comes at a competitive price, keeping all the amazing features in mind, it is kind of a great deal. With the hardware that comes with the Acer Helios 300, the customers get away with very good value.
Operating System
OS – Windows 10 Home
System Architecture- 64 bit
Acer Predator Helios 300 Specifications
Processor: 10th generations i7 with 6 core
6gb NVIDIA Geoforce RTX2060 graphics
144HZ refresh rate
16GB DDR6 Ram
1TB HDD and 256SSD
Screen size is 15.6 inches full HD
There are Inbuilt speakers
The laptop has an in-built dual microphone.
Dimensions are 363.4 x 255 x 22.9 mm
The weight of this device is 2.5 kg
The price of Acer Predator Helios 300 is at Rs.99,990 in stores like Flipkart, which is a great deal as it gives a discount of Rs. 35,000. So it is selling at the lowest price in India especially in Flipkart big billion days sale 2020.
Below, we go through the description of the laptop and the various features-
Design
The Acer laptop has a display of 39.6cm, and the body is made of black metal and gives off a stylish look. The design has included blue decals at the side, and a great looking predator logo at the center.
The design of the keyboard largely remains the same as previous models but the only difference is that they have added air intakes at the top, which is a sensible move.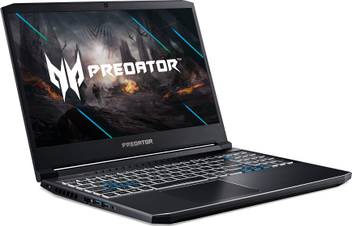 Performance while gaming
The Acer Helios 300 comes with 6GB of NVIDIA Geforce RTX 2060. The result is that the customer will be able to enjoy an enhanced and superior experience while gaming.
CPU
The Acer Helios 300 comes with a 10th generation technology with integrated Intel core i7 processor. It has 16 GB of DDR4 2666 RAM, which is adaptable to expansion till 32 GB. These features make sure the buyers can function with ease.
Rate of Refresh
The visual aspect while you are gaming will be lag-free and seamless due to the refresh rate of 144 Hz. On top of that, there is an overdrive response of 3ms.
Fast Performance while gaming
Due to the inclusion of a 256 GB SSD, the Acer gaming laptop will be able to load all your games within a short time.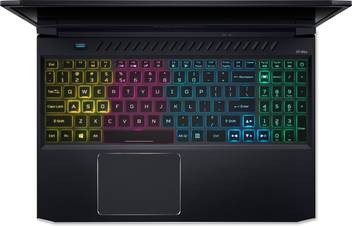 Cooling features
The Acer laptop has the 4th generation AerBlade 3D Technology, which helps the system to get cooled effectively. If your laptop does not have this essential feature, the gamers will not be able to continue without facing problems.
Control Center
With the Acer Predator Helios 300, you will forget about issues of latency. No more failure in games because the Killer DoubleShot Pro will be present to solve all your internet problems.
The device uses the Killer Control Center to handle all these problems so that the gaming experience doesn't turn sour.